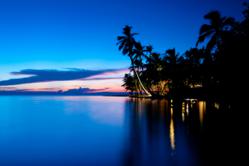 Ms Fleming pointed to the popular Rainforest-to-Reef all-inclusive packages as an example of Belizean resorts working together to create seamless holiday experiences.
(PRWEB) April 13, 2013
A new approach to holidays - customised, or bespoke vacation packages, have struck a chord with travellers wishing to get the most out of their vacations, according to the owners of a popular Belizean eco resort.
Lucy Fleming, who with her husband Mick own and operate Belize's The Lodge at Chaa Creek, said she believes the new trend toward personalised vacation packages represents the wave of the future.
"Our all-inclusive Belize vacation packages have been popular for many years now, and more recently we've been offering bespoke packages, where our vacation specialists work with guests to create affordable, personalised holiday packages that cater to a family's, couple's, group's or individual's specific tastes.
"For example, we offer Maya, Family Adventure, Romance, Rainforest-to-Reef and other all-inclusive Belize vacation packages to ensure that our guests make the best use of their holiday time by focussing on things that interest them. With our bespoke packages, guests can further refine the packages to ensure that they spend their time doing exactly what they want to do.
"Our vacation package specialists know Belize inside and out, from the inland rainforests to the Caribbean coast, the cayes and Belize Great Barrier Reef, and can make recommendations or point out attractions people may not be aware of."
"As an example, we had a family that had an interest in Maya culture, with a daughter who loved horses while the father was keen on boats. We worked with them to create a holiday with a horseback excursion to an ancient Maya temple, and the next day a family canoe trip down the Macal River to San Ignacio Town, where we picked them up for an excursion to another ancient Maya city. With all of the other activities, tours and just relaxing around the resort, including visits to the Hilltop Spa for mom, they said they had the time of their lives," Ms Fleming said.
With time and the pressures of work and family commitments becoming more of an issue for people worldwide, custom made holidays are becoming increasingly popular, Ms Fleming said.
"Not long ago, people just wanted to get away," she said, "Now they're more specific in how they want to spend that time away. They want to do and see as much as possible, but while still relaxing and unwinding, and that's where all-inclusive, tailored packages come in. They're also a great deal and much more affordable than trying to plan and do things on one's own."
Ms Fleming explained that with all-inclusive Belize vacation packages, everything from accommodation, meals, transfers, tours, activities and even staff gratuities and taxes are all included in one set price, taking much of the stress out of a holiday. And, due to a countrywide network of colleagues and economies of scale, all-inclusive packages can represent significant savings.
"Chaa Creek sits within a 365 acre private rainforest reserve, and with all of the activities and amenities on offer, we really are a destination within a destination. And, with over 30 years' experience and close relationships with other resorts, tour companies and service providers, we can design and deliver packages that really are exceptional," she said.
Ms Fleming pointed to the popular Rainforest-to-Reef all-inclusive packages as an example of Belizean resorts working together to create seamless holiday experiences.
"With our sister resorts in Belize's Caribbean, guests can literally go from having breakfast in the jungle, visit an ancient Maya temple, and then be snorkelling along the Belize Great Barrier Reef that afternoon, and all for one affordable set price with no hidden costs or surprises. And with a bespoke package, they can opt for diving the famous Blue Hole, sea kayaking around beautiful remote, having a more laid-back holiday just lounging on the beach, or a combination of everything."
"By providing flexibility and giving our guests more control over how they spend their Belize vacation we're seeing happier, more satisfied customers. At the end of the day, that's really what it's all about," Ms Fleming said.