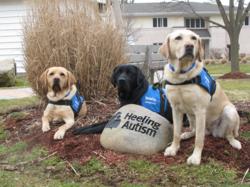 Like all parents, we have high hopes for our son. Through Guiding Eyes' vision and gift of Heeling Autism dog Janelle, we imagine a safe future for Eric and a destiny that includes friendship, forethought, tolerance and patience.
(PRWEB) April 16, 2013
Guiding Eyes for the Blind, recognized around the globe as a pioneer in the guide dog field, is celebrating April's National Autism Awareness Month with the launch of a new challenge grant to benefit its Heeling Autism program. Guiding Eyes supporter Mary Bianco has committed to match up to $50,000 in donations dollar-for-dollar. The much-needed funds will allow the nonprofit to train more autism service dogs for families on its two-year waiting list.
Heeling Autism dogs ensure safety for children with autism and help them to develop lasting emotional and social bonds. As a result, families are able to lead more normal, less stressful lives. Parents often report other life-changing benefits as well, including seeing their children transform from a social outsider to an accepted peer with an autism service dog by their side.
"I cannot help being moved by the success stories of Guiding Eyes' Heeling Autism program," said Mary Bianco. "The bond between me and my dog is priceless, but the bonds that form between children with autism and their specially trained Heeling Autism dogs are more than priceless – they literally are life-saving."
Over the past five years, Guiding Eyes has placed 43 dogs through its Heeling Autism program with a 100% success rate. This month, the nonprofit welcomed three more families to their Yorktown Heights headquarters where they meet their children's new autism service dogs for the first time.
"Our April graduating class includes three very special dogs -- Kelso, Sanders and Janelle," said Caroline Sandler, Director of the Heeling Autism Program at Guiding Eyes. "Each one has undergone extensive training to prepare for their road ahead."
In many cases, having a Heeling Autism dog can be a matter of life or death for an autistic child. Parents rank their children's wandering or bolting as one of the most stressful of all behaviors. Drowning is the leading cause of death among children with autism who wander away from a safe environment.
"Just last week Matthew ran into busy traffic while we were leaving a shopping center," said Nancy Grabstein of Durmont, NJ, mother of eleven-year-old Matthew. "The stress and anxiety this causes our entire family is overwhelming. We are shaken to our cores far too often at how close our Matthew has come to escaping death or serious injury. We hug, kiss and cry each time we have him back in our arms after these episodes."
Grabstein continued, "We know that Heeling Autism dog Sanders will provide us with a sense of safety and peace that we can see, touch and feel. We haven't experienced a stress-free outing since Matthew was a toddler. This affects the entire family on so many levels -- socially, emotionally and physically."
Before receiving Heeling Autism dogs, parents tell Guiding Eyes how they fear for their children's safety. Parents worry about their children's isolation, because those with autism have little or no ability to bond with people, even their own parents. Heeling Autism dogs are allowing whole families to go to a school soccer game, or the seashore, or Disney for the very first time.
Montrose resident Lynda Mitrone, mother of four-year-old Nicholas, agrees, "There are many places we don't dare go right now because we fear losing Nicky. It is our hope that Heeling Autism dog Kelso will help give Nicky more life experiences and our entire family a new sense of freedom and independence."
Each child receiving a dog has experienced an improvement in one or more areas, such as bolting behaviors, verbal abilities, sleeping patterns, and social interactions. Each dog is individually trained to meet the needs of a specific child. The sooner a child receives help, the more likely he or she is to break away from autism's social barriers and emotional obstacles.
"Like all parents, we have high hopes for our son," said Carmel resident Angie Poulin, mother of seven-year-old Eric. "Through Guiding Eyes' vision and gift of Heeling Autism dog Janelle, we imagine a safe future for Eric and a destiny that includes friendship, forethought, tolerance and patience."
Guiding Eyes invests significant resources into breeding, raising and training these special dogs, yet does not charge families for any of its services. There is no cost for the dogs or the long-term professional training needed to ensure every family's success.
"We are extremely grateful to Mary Bianco for her generosity and strong belief in our programs," said Sue Dishart, Guiding Eyes' Vice President for Marketing and Development. "Now is the perfect time to help us transform lives; with the Heeling Autism challenge, your gift can have double the impact."
Guiding Eyes for the Blind is located at 611 Granite Springs Road in Yorktown Heights, N.Y. and can be reached at 914.243.2208. For more information on the Heeling Autism challenge, call 914.243.2228 or email heelingautism(at)guidingeyes(dot)org. To make a donation online, visit http://www.guidingeyes.org/donate (indicate Heeling Autism under Special Gift Opportunities).
About Guiding Eyes for the Blind:
Guiding Eyes for the Blind is an internationally accredited 501(c)(3) nonprofit guide dog school founded in 1954. Since its inception, Guiding Eyes has grown to be one of the foremost guide dog schools in the world, known for its cutting-edge training programs, commitment to excellence, and dedication to its elite and superbly trained guide dogs. In 2008, the school launched Heeling Autism, a service dog program designed to provide safety and companionship for children on the autism spectrum. Guiding Eyes provides all of its services at no cost, and is dependent upon contributions to fulfill its mission. The organization's Headquarters and Training Center is located in Yorktown Heights, N.Y. and its Canine Development Center is in Patterson, N.Y. For more info, visit http://www.guidingeyes.org, like Guiding Eyes on Facebook (http://www.facebook.com/guidingeyes) or follow @guidingeyes on Twitter.