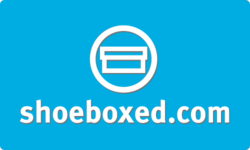 The Shoeboxed Web Clipper provides users everywhere the freedom and convenience to effortlessly submit receipts without ever leaving their web browser.
Durham, NC (PRWEB) April 16, 2013
Today Shoeboxed, the industry leader in cloud-based receipt scanning, announced the release of a new Web Clipper for all popular browsers. The Shoeboxed Web Clipper, which is available as a free download here, provides users everywhere the freedom and convenience to effortlessly submit receipts without ever leaving their web browser.
The new Shoeboxed Web Clipper is a browser extension currently available in Google Chrome, Mozilla Firefox, Safari and Internet Explorer. Once installed, the extension can be accessed via the Shoeboxed icon in the browser's navigation bar or by right-clicking on any webpage. The Web Clipper was designed to make it quick and simple to submit order confirmation pages, eReceipts and any online document to Shoeboxed.
"One of the biggest challenges with trying to properly track receipts is simply finding a single, centralized way to store all of them," said Taylor Mingos, founder and CEO of Shoeboxed. "Our goal is to fit into your workflow so that you can submit receipts from anywhere, in any form they may arrive. Forward eReceipts, mail physical receipts, and now clip receipts right from your browser. The Web Clipper is a fantastic addition to the toolkit that we provide our users so that they can streamline their receipt tracking from anywhere."
This announcement comes after the previously released Shoeboxed Web Clipper for Chrome saw a high success rate in terms of user adoption and user satisfaction following its launch in April 2012. The company reported that this success prompted them to build a new Web Clipper with support for all popular browsers in order to accommodate its rapidly expanding user base.
The Shoeboxed Web Clipper is the newest product from the Durham-based SaaS company and aligns with their goal of simplifying expense tracking by storing receipts in the cloud. The company's other offerings include the popular Shoeboxed Receipt Tracker App for iOS and Android, desktop uploaders for Mac and Windows, and a mail-in service that allows users to submit hard copy documents for scanning.
About Shoeboxed:
Since 2007 Shoeboxed has been the industry leader in online receipt scanning and organization, serving over 500,000 small business owners worldwide. The pioneers of cloud-based receipt scanning, Shoeboxed saves users time, money and hassle by turning receipts into a categorized, IRS-accepted archive of secure online data.
Shoeboxed offers a fully functional free plan, as well as premium plans that include a prepaid mail-in service for physical receipts. Shoeboxed also accepts receipts via their smartphone apps, through their desktop uploader, or at receipts (at) shoeboxed (dot) com. Shoeboxed is based in Durham, North Carolina, and has growing offices in both San Francisco, California, and Sydney, Australia.
To learn more, please visit https://www.shoeboxed.com today.