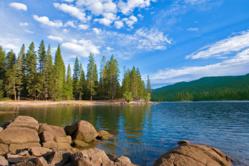 The water is up, the lake is stocked full of fish and we're truly looking forward to an exciting spring and summer
(PRWEB) April 15, 2013
For the first time in four years, there is no construction happening at the Crane Valley Dam which holds back Bass Lake, and local businesses are shouting the news from the roof tops.
The Bass Lake Chamber of Commerce has embarked on a large marketing campaign to tell travelers that things are back to normal at Bass Lake.
"We're telling everyone that 'Bass Lake is full of it; fish, water and family fun,'" said Leslie Cox with the Forks Resort and President of the Bass Lake Chamber of Commerce.
"The water is up, the lake is stocked full of fish and we're truly looking forward to an exciting spring and summer," she said.
PG&E just completed a large seismic retrofit of the dam, a project that has been dubbed "The dam project" by locals.
"We really appreciate PG&E spending so much of their resources making sure the dam is as sound as it can be. They also were great partners working as hard as they could to mitigate impacts to business," said Cox.
Water levels had been low in previous years to facilitate the work. But this year the lake is expected to be within a few feet of full, meaning there will be plenty of water to go around.
A host of events are happening at Bass Lake, such as the annual Bass Lake Fishing Derby taking place May 4 and 5. There is a total of $55,000 up for grabs, including three "Grand Prize Fish" that were worth a total of $25,000. Applications for the derby can be found on the chamber's website at http://www.BassLakeChamber.com.
Other events coming up this summer include arts and crafts fairs, the Bass Lake Farmer's market taking place each Wednesday starting May 15, the Antique and Classic Wooden Boat Show May 17-19, the third annual Bass Lake Classic Triathlon June 1, third annual South Shore Car and Boat show June 2 and many more.
About Bass Lake
Bass Lake is a popular resort area located about 20 minutes outside the southern entrance to Yosemite National Park. Bass Lake is one of the few lakes with a full array of amenities located along the water. A full range of lodging, from camping to a full service resort is located moments from the water's edge, as are numerous restaurants, shopping and more.