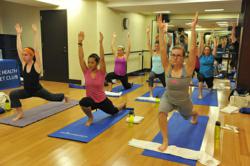 Scottsdale, AZ (PRWEB) April 15, 2013
A recent report by the Gartner Group states that customer relationship management (CRM) mobile apps will grow 500 percent by 2014. This trend is good news for health clubs looking for more efficient ways of growing revenue through member retention.
It also illustrates the role Software-as-a-Service (SaaS) plays in their success.
Software-as-a-Service is an on-demand program hosted on the cloud, rather than in-house networks. These applications are accessed through Internet-connected devices like smartphones and tablets.
Here's why mobile CRM apps are gaining popularity:

Easy access for trainers.
Mobile apps connect with SaaS programs not confined to a desktop computer. This allows trainers to access their clients' information from anywhere inside or outside of the health club through their mobile device. This frees up trainer time that can be focused on the client, resulting in higher retention.
Easy access for club members.
Member portals within the CRM can be instantly accessed through the app at anytime, from anywhere. This is a true benefit to members who frequently access their accounts.
CRM apps like Salesforce are designed for easy navigation on a smartphone or tablet. They make it easy to access the system's most popular features through buttons and icons within the app.
Instant communication with club members.
Messaging members about the day's promotions can be done instantly through an app. This ensures that revenue-generating activities are delivered on-time.
Decreased administrative costs.
Mobile access to their CRM accounts increases the likelihood that trainers will properly manage their accounts. This frees up club support staff who will spend less time managing the system and more time focused on tasks that increase member retention and revenue.
Learn how Appointment-Plus personal training software can boost your member retention rates. Call 800-988-0061.
#
About Appointment-Plus: Appointment-Plus online scheduling helps health clubs run more profitably by holding trainers accountable, automated e-mail reminders that reduce no-shows by 70 percent, and training packages. It allows trainers to instantly sync with Google and Outlook calendars.