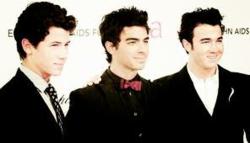 New York, NY (PRWEB) April 12, 2013
After three years, the Jonas Brothers are on tour again. The announcement came after their successful shows at the Radio City Music Hall and Pantages, and their South American Tour. The tour will be in support of their new album "Pom Poms."
They have not been idle these past few years. Instead, they have been busy connecting with their fans around the world. The 16-show South American tour was part of 8 international tours that the band had just finished. They also performed at the Viña del Mar International Song Festival where they won the Festival's top award.
The 2013 Jonas Brothers Live Tour will be their ninth concert tour. The shows will run through the United States and Canada and will start at Chicago's Charter One Pavillion on July 10. There will be 26 shows ending up in Los Angeles, CA on August 16. In between they will be traveling through Indianapolis, Detroit, Cincinnati, Cleveland, Toronto, Corfu, Wantagh, Boston, Uncasville, Holmdel Township, Atlantic City, Hershey, Bristow, Charlotte, Raleigh, West Palm Beach, Tampa, Atlanta, Dallas, Houston, Phoenix, Las Vegas, San Francisco, Sand Diego and Los Angeles.
With their first four albums, the Jonas Brothers have sold more than 20 million album copies worldwide. They have been awarded more than 40 Gold and Platinum record certifications, as well as more than 50 awards from across the globe.
They took a break from touring and the recording studio for three years. During that time they took to individual pursuits. Joe had his own solo album and was on tour promoting it, while Nick was on Broadway appearing in "How to Succeed in Business Without Really Trying." Kevin was also busy with a reality show starring himself and his wife, with his two brothers, called "Married to Jonas." They returned to the concert stage in what was considered a "reunion concert" at Radio City Music Hall in August,. 2012. They also performed at the L.A. Live Jingle Ball concert in December, 2012.
It seems that the brothers have always been performing together. But that is what you get when you are all in one family. Nick was the first to enter showbiz with stints on Broadway at the age of 7. But their real start as a group in 2005, when they were signed by Columbia Records. Their big break came in the Disney movie, Camp Rock, in 2008.
With "Pom Poms", The Jonas Brothers bring a different sound to their repertoire, with a more adult beat. It has been described as an album where the sparks are flying. With only their fifth album, the young group is expected to stay in the music business for a long time.
About CheapConcertTickets.me:
CheapConcertTickets.me delivers tickets to sold out concerts and events worldwide when no one else can, and they do so at discounted prices. As a member of TicketNetworkDirect, they can guarantee the delivery of tickets on time for the Jonas Brothers, The Rolling Stones and for sporting events like NASCAR, NBA, NFL, and NHL. With CheapConcertTickets.me customer service is a priority, for more information email support(at)cheapconcerttickets(dot)me.