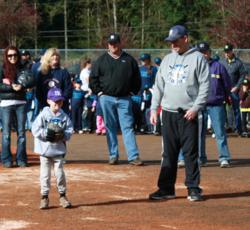 Poulsbo, WA (PRWEB) April 14, 2013
As North Kitsap Little League held its opening ceremonies, kicking off its 60th season of playing ball, Vice President Scott Knutsen had a special announcement for the crowd.
Hundreds of attendees, family, coaches, and players recited the Little League Oath and listened to the singing of the National Anthem, but when it came time for the ceremonial first pitch, Knutsen took a moment to announce that NK Little League would be dedicating this season to Ian Gunnell and Carmen Garringer.
Gunnell is a local 6 year old boy, who under normal circumstances would be playing Little League but is instead battling a rare form of cancer. Released from inpatient care at Children's Hospital on Thursday, Gunnell was able to step up on the mound to throw out NKLL's first pitch to his friend (and catcher), Adam Knutsen. The North Kitsap Community began to rally around Gunnell at the start of the school year when he was diagnosed with blastic plasmacytoid dendritic cell neoplasm, a very rare form of Leukemia. With his Dad at the helm, Positive Fight Mode for Ian was born and has raised over $100,000 to help his family with medical bills.
Carmen Garringer, who was unable to attend the events, is a local 8 year old who is currently undergoing treatment for extraosseous Ewing's sarcoma. This active, young girl who was a 2012 Miss West Sound Little Sister has inspired the North Kitsap Community to continue its support of these young cancer warriors and their families. Caring for Carmen has taken on momentum akin to that of Positive Fight Mode for Ian with local merchants stepping in to host events to raise money for the medical costs associated with Carmen's treatment.
The North Kitsap Little League is an all volunteer organization that serves over 800 families a year and is one of the longest continuing Little League organizations in the United States.
For additional information and media inquires please contact:
The RockFish Group
Kelle Kitchel-Cooper, Director of Development
Phone: (360) 774-0431 | Kelle(at)RockFishGroup(dot)com