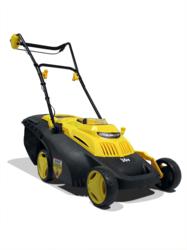 The Recharge Mower ULTRALITE will change the way people think about caring for their lawn
Carson, CA (PRWEB) April 16, 2013
The New Recharge Mower ULTRALITE Lithium Powered Cordless Mower from Driven by Solar uses no gas, no oil and produces no emissions. The ULTRALITE is also extremely quiet and allows you to mow at any time without disturbing the family or the neighbors.
"The ULTRALITE makes mowing your lawn effortless" says company President Allan Hechtman. "The Recharge Mower ULTRALITE will change the way people think about caring for their lawn."
The Lithium Powered Recharge Mower ULTRALITE Cordless Electric Mower is the most technologically advanced push lawnmower on the market. The Recharge Mower ULTRALITE is powered by a memory-free lithium battery that can be rapidly re-energized using the accompanying Energy Star charger. Weighing under 35 pounds, the ULTRALITE is easy to maneuver, easy to transport and easy to store. The ULTRALITE comes assembled and set-up takes only a couple of minutes without tools.
The Recharge Mower ULTRALITE Cordless Electric Mower features a fully molded resin body that will not rust. One handle operates an all-wheel height adjustment. Choose from 6 selectable heights to best suit your lawn. Also, the ULTRALITE comes complete with a grass catcher and a mulching insert for perfect finished results.
See the videos and get the details at the company website http://www.rechargemower.com or go to our growing list of retail partners including; Amazon, com, ATGStores.com, HomeDepot.com, MowersDirect.com, PowerEquipmentDirect.com, Sears.com, and now at Lowes.com.
Driven By Solar Inc., the company behind the Recharge Mower and Recharge Tools brands and registered trademarks, was established in early 2008. The company is focused on developing, producing and marketing a growing selection of environmentally friendly lawn and garden tools. The company can be reached at Info(at)rechargemower(dot)com or by calling 905-997-9300. The company credo… "A greener lawn. A greener planet." remains well entrenched.