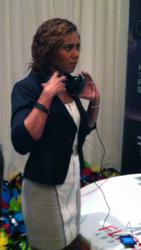 It's always met with 'Wow, that's really cool!'
Los Angeles, CA (PRWEB) April 14, 2013
Flips Audio™ unveiled its revolutionary new headphone, Flips™, this weekend at the Secret Room style lounge in honor of the 2013 MTV Movie Awards. The headphone, which breaks new ground in offering the user two listening modes, received rave reviews in a flurry of celebrity Tweets.
The "Solo2Social" headphones are the first to allow users to choose between listening alone and sharing their music with friends. Flips spokesperson, Luigi Tartara, explained, "Flips go from headphone (solo) to a powerful amplified speaker (social) with just a flip of the earcups." Tartara, who never tires of seeing and hearing people's reactions the first time they flip said, "It's always met with 'WOW, that's really cool!'"
Available in a Black with Electric Lime accent or White with Racing Red, the headphone comes with a coordinated, well-crafted protective carrying case.
The celebrity filled Secret Room event was held at the luxurious SLS Hotel in Beverly Hills.