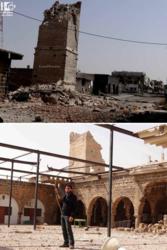 Washington, DC (PRWEB) April 15, 2013
The landmark Omari Mosque in the southern Syrian city of Dara'a was destroyed by Assad regime tank fire on April 13 2013, activists reported to the AFP and Al-Arabiya . Video has been circulating showing the exact moment the mosque's minaret crashed to the ground. The Omari Mosque was established in the 7th century by Rashidun Caliph Omar Ibn Al-Khattab, a revered companion of the Prophet Mohammad in Islam.
SEE: Historic Mosque In Dara'a Destroyed in Syrian Army Shelling http://english.alarabiya.net/en/News/middle-east/2013/04/14/Historic-mosque-in-Daraa-destroyed-in-Syrian-army-shelling-.html
"The Omari mosque holds not only a special place in the annals of Islamic history, but in the current history of the Syrian Revolution," said Rasha Othman of the Syrian Expatriates Organization and a member of the Syria Heritage Working Group. "The Omari mosque became a rallying point for some of the earliest peaceful protests at the beginning of the revolution in March 2011. It has also served as a makeshift hospital for the wounded. It has been targeted numerous times by regime shelling and gunfire. The mosque's present near-demolished state is indicative of the Assad regime's repetitive behavior of deliberately destroying Syria's cultural heritage, as we have seen documented at numerous other historical sites throughout the country. The destruction of Syria's history tears at the fabric of our identity as Syrians," said Othman.
"We, as Syrians, hold the Assad regime accountable for damages to our historical sites. We urge the international community, UNESCO, and other concerned groups to condemn the destruction of Syria's cultural heritage and help provide resources to record violations and protect remaining historical sites and artifacts. Syria's history is the world's history," said Othman.