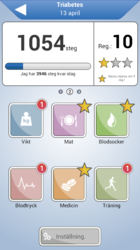 Stockholm and St. Gallen (PRWEB UK) 17 April 2013
Diabetes Tools and ForaCare announce a new collaboration to enable diabetes patients to wirelessly transfer blood glucose and pressure readings from ForaCare's Bluetooth® capable monitors to Diabetes Tools' smartphone app, part of the new Triabetes™ decision support software service.
This cooperation results from successfully developing wireless compatibility between the two company's products.
An outcome of this relationship is ForaCare's enrollment as a technology partner and sponsor of an ongoing clinical study run by Diabetes Tools for a major healthcare organization in Poland. Here, Triabetes is integrated with a web-based Electronic Medical Record (EMR) system where patients use the smartphone app to track their daily diet and exercise choices. Study participants use ForaCare's FORA Diamond MINI and FORA DUO ultima D40 blood glucose and pressure monitors to wirelessly transfer their readings to Triabetes.
Diabetes Tools and ForaCare will continue to globally promote this capability as each company maximizes their core technologies.
Bluetooth is a trademark of Bluetooth SIG. Triabetes is a trademark of Diabetes Tools Sweden AB.
About ForaCare Suisse AG
All ForaCare monitoring devices are validated as highly accurate in the industry and provide superior quality directly to consumers. FORA Blood Glucose Monitors are validated according to ISO 15197 requirements at an internationally renowned diabetes institute in Ulm, Germany. ForaCare provides FDA cleared and CE marked innovative health monitoring devices that provide simple connection to the FORA system. For more information, please visit http://www.ForaCare.ch.
Media contact: Elena Birrer, Email: elena.birrer(at)foracare(dot)com
About Triabetes and Diabetes Tools Sweden AB
Triabetes is a smartphone app and online decision support service for people living with and caring for all forms of diabetes. Triabetes is from Diabetes Tools, a Swedish medical technology company that develops scientifically based software-as-a-service solutions. Triabetes is scalable. It can be used by individuals, doctors and treatment clinics, and can be integrated with large-scale Electronic Medical Record (EMR) systems.
Founded in 2005, Diabetes Tools is a privately held company located in Stockholm, Sweden. Diabetes Tools holds an ISO 13485 certificate, a compliance standard for creating medical devices and related services. Triabetes is a CE-marked medical software product registered for sale in the European Union. More information at http://www.diabetestools.se.
Media contact: Catherine Dowdell, PR and Communications Manager, Email: press(at)diabetestools(dot)se