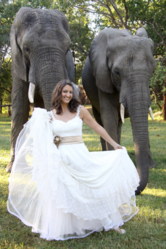 "Everyone needs to know how to make the internet and social media work for them, any business owner who needs to stand out has to focus on the World Wide Web." Ciaran Connolly, Co- Founder of ProfileTree
Cape Town, South Africa (PRWEB) April 16, 2013
When ProfileTree heard of a couture wedding dress designer who does it all through the Internet without the hassle of fittings and several shop trips, an investigation was in order, and thus, ProfileTree recently sat with Rene Heydon, owner of Rene H Couture in Cape Town to learn about the life of a couture wedding dress designer.
Rene spoke about her passion for dress making, romance and the dreamy gowns and the one thing she can't live without, the Internet.
In her sit-down interview with ProfileTree, Rene spoke of her achievement in using the Internet only to reach a breathtaking dress with her customers, she said "( I can't live without) My sewing equipment and my Blackberry. Major internet needs that has to be attended to through the day."
What makes Rene different from other designers is the fact that she does it all online: "I discuss the designs with the client via the internet or Skype and webcam, so designing the perfect dress."
Ciaran Connolly, Co-Founder of ProfileTree stresses the fact that anything can be achieved with some Internet savvy. "Everyone needs to know how to make the Internet and social media work for them; any business owner who needs to stand out has to focus on the world wide web."
Profile Tree's main goal is to help small business owners reach new customers every day with the most innovative online marketing tips and techniques.
About ProfileTree: ProfileTree is a free listing service where self employed and small business owners can create an online marketing profile. From pencil or portrait artist to self employed service providers - anyone can create a skills profile on ProfileTree for free.