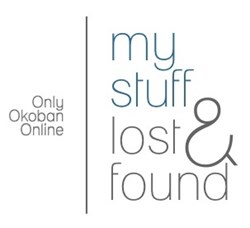 Now, with Okoban, any lost mobile device or other valuable can find its owner. Often, the lost valuable finds the owner before the owner realizes the item is lost.
Atlanta, GA (PRWEB) April 16, 2013
The realization that a valuable item is lost can produce a sudden panic attack in virtually anyone. It can happen anywhere at any time and does happen to almost everyone at some point. The number of items lost every year is staggering, especially to persons traveling.
About 30 million mobile phones go missing every year, according to insurance provider Asurion. More than 12,000 computer laptops are left in airports every week. Heathrow airport alone has about five laptops and 10 mobile phones turned in everyday.
Lost items cover the gamut from the mundane to the unbelievably expensive and bizarre. Passports, credit cards, state ID cards, computers, wedding rings and other jewelry, MP3 players and cash are the items most often left behind, says Hyatt spokeswoman Lori Alexander.
A bag of human skulls was found on London's tube and eventually returned to the absent-minded professor who'd left them there. It's difficult to imagine how commuters have also managed to lose a 14- foot boat, a theatrical coffin and numerous sets of false teeth. "Reuniting two urns of ashes with the families who had lost them was particularly heart-warming," said Julie Haley, Transport for London Lost Property Office Manager.
Amazingly, other lost items include breast implants, wedding dresses, rare dried Rhino beetles, a 2.5 million dollar cello and a five-year sobriety coin from Alcoholics Anonymous left next to an empty bottle of champagne.
THE DIFFICULTY WITH RETURNING LOST ITEMS
Most finders want to return a lost item if possible. Too often, items don't get back to their owners simply because there is no way to tell who the owner is. There are plenty of stories of Good Samaritans who have had to go to extreme lengths to return lost items.
One recent example occurred when a lost camera washed ashore in Taiwan five years after being lost in Maui, Hawaii. It was discovered by two China Airlines staff that spent hours studying photos on the still working memory card. They were able to trace the name "Teralani 3" on a catamaran to Maui, and created the Facebook page "China Airlines is looking for you". The owner was found when a friend identified her from one of the pictures.
Frequent finders like airlines, taxi cab companies and hotels can find returning the immense volume of lost items an overwhelming task. American Airlines tries to reunite items with their owners "for several weeks," says airline spokesman Tim Smith. The cost of returning items to owners is "significant". When that cannot be done, he says, items are sold to a salvage company.
Many hotels respect guests' privacy and won't return an item unless the owner asks for it. That prevents them from getting caught in awkward situations like a spouse learning that their partner may have something to hide.
A 2011 Ponemon Institute study reveals that of 142,706 smart phones lost or missing only 9,298 (or 7 percent) were recovered.
OKOBAN SOLVES THE PROBLEM
Lost items almost always get found by someone. The problem is that most likely the finder has no easy way to contact the owner and the item remains lost.
Okoban® tracker tags from http://www.mystufflostandfound.com solve the problem by connecting finders with owners quickly, securely and privately, anywhere in the world. Finders simply enter the tracker tag's Unique Identification (UID) code and the recovery location on the Okoban website. The system then immediately notifies the owner, anywhere in the world, with a secure email and text message of the found valuable and its recovery location.
The worldwide Okoban notification service, linked to the SITA/IATA World Tracer system, operates in 2,200+ airports, on 400+ airlines and in thousands of "frequent finder" locations, institutional lost and found facilities such as TSA, rail, maritime, coach, car rental and hotel companies.
The purchase of Okoban tags includes lifelong coverage in the system. There are no annual renewal fees.
Okoban is owned by Travel Sentry, the company that licenses the TSA accessible locks sold at tens of thousands of retail outlets, by over 400 luggage manufacturers worldwide and currently installed on 200 million luggage products everywhere.
"Now, with Okoban, any lost mobile device or other valuable can find its owner," says Gordon Burns, CEO of My Stuff Lost and Found. "Often, the lost valuable finds the owner before the owner realizes the item is lost," says Burns.
My Stuff Lost & Found, founded in 2012, provides convenient worldwide online sales and service of Okoban's sturdy tracker tags for laptops, phones, tablets, passports, luggage, cameras, pets and other valuables.
Mystufflostandfound.com is the online gateway to Okoban's tracking service for valuables and free global lost and found service for life. Purchase Okoban online at http://www.mystufflostandfound.com.