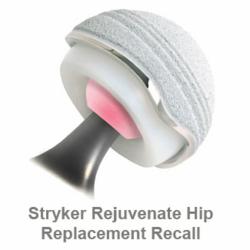 If you or someone you love were injured by Stryker Rejuvenate and ABG II Modular-Neck Hip replacement device, please visit yourlegalhelp.com, or call toll-FREE 1-800-399-0795
Columbus, OH (PRWEB) April 16, 2013
The Stryker Rejuvenate hip recall lawyers with the experienced personal injury law firm of Wright & Schulte LLC are disturbed by a recent Palm Beach Post report detailing surgeons' experiences with Stryker Rejuvenate hip replacement recall patients. One Florida surgeon, who has already performed 100 revisions on patients with recalled Rejuvenate and ABG II hip stems, told the Post that he expects to perform at least 100 more. During those revisions, the surgeon has observed the same problems in every Stryker Rejuvenate hip recall patient, including fibrous tumor-like pocket so full of fluid, inflamed muscle, and white milky fluid around the joint.
[palmbeachpost.com/news/lifestyles/health/boynton-
beach-orthopedic-surgeon-removes-recalled-/nW74k/]
If the surgeon's experience is typical, the failure rate associated with the Stryker Rejuvenate recall could reach 50% or higher, according to Wright & Schulte LLC. Even worse, the Palm Beach Post reported some doctors have expressed concerns that failure rates could exceed 70% to 90%. If so, the Stryker Rejuvenate hip recall would become one of the worst medical disasters in recent history. To put the issue in perspective, even the most pessimistic estimates of the 2010 DePuy ASR hip recall put failure rates near 40%.
[nytimes.com/2013/01/23/business/jj-study-suggested
-hip-device-could-fail-in-thousands-more.html]
Wright & Schulte LLC is offering free Stryker hip recall lawsuit consultations to individuals who suffered serious complications due to the recalled Stryker Rejuvenate and ABG II Modular-Neck Hip Stems, including:

Metallosis
Tissue death
Osteolysis
Damage to bone and tissue
Inflammation
Premature failure of the implant
Infection
Loosening of implant
Formation of pseudotumors
For more information on filing a Stryker hip replacement implant recall lawsuit, or to arrange for a free legal consultation, please visit yourlegalhelp.com.
Prior to the July 2012 Stryker hip recall, some 20,000 Rejuvenate and ABG II hip stems had been sold nationwide. According to Stryker, the Rejuvenate and ABG II hip stems are prone to fretting and corrosion at the modular neck junction. If this occurs, patients may experience pain, swelling, and adverse local tissue reactions. However, some Stryker hip recall patients have been found to have high levels of metal ions in their blood, even though they experienced no such symptoms. All patients affected by the Stryker Rejuvenate recall have been advised to undergo metal ion blood testing and imaging screenings, even if they are not experiencing problems with their hip.
[literature.ortho.stryker.com/files/REJUV_COM_23.pdf]
According to Wright & Schulte LLC, the litigation surrounding the Stryker Rejuvenate hip replacement recall is expected to be massive. Court documents show that at least 81 Stryker hip recall lawsuits are already pending in a consolidated litigation underway in Bergen County Superior Court, New Jersey. In re Stryker Rejuvenate Hip Stem and the ABG II Modular Hip Stem Litigation, No. 296) The U.S. Judicial Panel on Multidistrict Litigation (JPML) hear oral arguments on May 30th regarding the possible establishment of a consolidated proceeding for all Stryker Rejuvenate hip recall lawsuits in a single federal court for pretrial proceedings. (In Re: Stryker Rejuvenate and ABG II Hip Implant Products Liability Litigation, Case Pending No. 20 (JPML))
About Wright & Schulte LLC
Wright & Schulte LLC, a leading personal injury firm, is dedicated to the belief that America's legal system should work for the people. Every day, the attorneys of Wright Schulte LLC stand up for the rights of people who have been injured or wronged, and fight tirelessly to ensure that even the world's most powerful corporations take responsibility for their actions. If you're looking for a law firm that will guarantee the aggressive and personal representation you deserve, please do not hesitate to contact Wright & Schulte LLC today. Free Stryker Rejuvenate and ABG II Modular-Neck Hip Replacement Stems lawsuits case evaluations are available through yourlegalhelp.com, or call 1-888-399-0795.
Contact:
Wright Schulte LLC
812 East National Road
Vandalia, Ohio 45377
1-888-399-0795