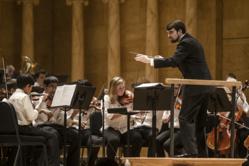 Toledo, OH (PRWEB) April 16, 2013
The Toledo Symphony Youth Orchestra, currently in its 63rd year, will perform its fourth concert Sunday, April 21 at 3:30PM at Start High School. This unique concert will feature the Concert and Philharmonic Orchestras under the direction of Wasim Hawary and Bob Mirakian.
Also featured will be the winners of the Toledo Symphony Youth Orchestras Concerto Competition. Joanna Peng, cello, Robert Myak, cello, and Cole Roberson, guitar, will perform concertos by Lalo, Elgar, and Vivaldi.
The TSYO currently serves 200 students from over 40 schools in Northwest Ohio and Southeast Michigan. They will perform works by Holst, Mussorgsky, Brahms, and Dvorak. The concert is free and open to the public.
For more information, please call Bri Michalko, TSYO Coordinator, at 419-418-0050.