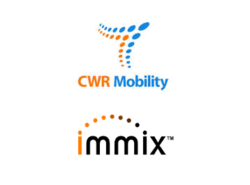 As CWR Mobility continues to deliver on our Mobile First initiative, bringing innovative and powerful features like our JavaScript SDK to our mobile CRM solution, partners like IMMIX are in a solid position to exceed customer demands.
REDMOND, Washington and JOHANNESBURG, South Africa (PRWEB) April 18, 2013
CWR Mobility, the leading provider of mobility solutions for Microsoft Dynamics® CRM and IMMIX Solutions, a leading Microsoft Dynamics CRM software provider, announced today that they have formed a new partnership in which IMMIX will offer advanced mobile CRM solutions to its customers based on award winning software from CWR Mobility. As part of this new business relationship, IMMIX has joined the CWR Mobility Partner Program as a Certified Partner.
IMMIX is a Microsoft Certified GOLD Partner, specializing in providing on-premise and hosted Microsoft Dynamics CRM software solutions in Southern Africa. They were recently announced as the second highest contributors towards Microsoft Dynamic's revenue stream for Q3 and represent one of the top Microsoft Dynamics partners worldwide. By partnering with CWR Mobility they are able to offer organizations access to their CRM software via mobile devices. With the world trending towards BYOD (bring your own device), organizations are able to empower employees through this mobile CRM offering, improving business productivity and enhancing your customer experiences.
"We are excited to have teamed up with a world renowned leader like CWR Mobility to provide mobility to our CRM customers," said Warren O'Reilly, Director of IMMIX. "Together we can lead the way for South African organizations to access their Microsoft Dynamics CRM software from any mobile device."
With the convergence of Mobile, Social and Cloud technologies well under way, leading companies are now looking to deploy modern, customer-centric business processes as mobile experiences first and desktop or Web experiences second. They see the opportunity to empower their organizations with new levels of insight and agility that enable them to build and maintain winning relationships with customers. With the introduction of our Mobile First initiative, CWR Mobility provides a strategy that IT organizations can adopt to help their business rapidly accomplish these goals using Microsoft Dynamics CRM and CWR Mobile CRM.
"As CWR Mobility continues to deliver on our Mobile First initiative, bringing innovative and powerful features like our JavaScript SDK to our mobile CRM solution, partners like IMMIX are in a solid position to exceed customer demands," said Erik van Hoof, co-founder of CWR Mobility. "We look forward to working with IMMIX Solutions."
About CWR Mobility
CWR Mobility empowers organizations to become more insightful, agile, and customer-centered to drive successful business relationships, while reducing their cost. By enabling advanced, cross-platform mobile CRM solutions – based on the Microsoft Dynamics CRM platform – CWR Mobility continues to set the mobility standard for the entire CRM industry. CWR Mobility and its partners uniquely empower companies to drive business results through rapidly deployed mobile applications. CWR Mobility was named to the 2012 President's Club for Microsoft Dynamics and was named Microsoft's Partner of the Year for Mobility Business-to-Business Applications in 2011 and 2010.
About the CWR Mobility Partner Program
The Mobile CRM market is creating substantial new opportunity for system integrators, value added resellers and consultants who help their customers capitalize on Mobile First strategies. The CWR Mobility Partner Program provides the critical elements essential to successfully enter the mobile CRM market and deliver market-leading solutions based on best-in-class software products from CWR Mobility. For more information, or to inquire about partnership opportunities, visit http://www.cwrmobility.com/partners/become-a-mobile-crm-partner.
About IMMIX Solutions
IMMIX Solutions Ltd is a specialist in the design and delivery of adaptable, integrated technology solutions for business management.
IMMIX are a leading Microsoft Certified Partner (Gold: CRM, ERP and Collaboration & Content), with specialization in Microsoft Dynamics — a line of business software applications for the mid-, upper mid– and enterprise markets. Their core competencies include Customer Relationship Management (On premise, Hosted and Mobile CRM), Enterprise Resource Planning (ERP - Financial and Resource Management), SharePoint End to End Solutions (Business Process Automation, Enterprise Content Management, Knowledge Management), and Licensing (Microsoft and Adobe).
IMMIX has one of the largest client base out of all Microsoft partners in South Africa. They operate out of a head office in Johannesburg, a branch in Cape Town and have a sister company in the United Kingdom - IMMIX Solutions Ltd. http://www.immix.co.za
Microsoft, Microsoft Dynamics and Windows are either registered trademarks or trademarks of the Microsoft group of companies in the United States and/or other countries. Other trademarks mentioned in this press release may be held by their respective owners and/or their suppliers.