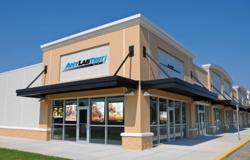 "We saw a need for an affordable, convenient option for consumers to take control of their health without the need of a doctor's order, appointment or insurance."
Pearland, TX (PRWEB) April 15, 2013
In an effort to provide professional, convenient and affordable lab testing, ANY LAB TEST NOW®, one of the nation's fastest-growing retail franchising opportunities, has opened its newest location in the Pearland community. The new facility, located at 2802 Business Center Drive, Suite 110 (between HEB Plus and Academy), will celebrate its Grand Opening celebration on 5/23/2013.
"We are proud to give this community an alternative choice in lab testing," said new owners John and Lysa Moellenkamp. "We saw a need for an affordable, convenient option for consumers to take control of their health without the need of a doctor's order, appointment or insurance." John and Lysa are Medical Technologists and have worked in laboratory testing for over 25 years. The Moellenkamps have been residents of the Houston/Pearland area for 40 years.
ANY LAB TEST NOW® revolutionizes the lab testing experience by offering thousands of standard lab tests in a professional and convenient retail setting. ANY LAB TEST NOW provides confidential lab tests with results typically in 24-48 hours and without the need of a doctor's order, appointment or insurance. And all tests can be taken anonymously. The new facility performs thousands of medical lab tests including drug, paternity, men's and women's wellness, STD/HIV and many more. ANY LAB TEST NOW also provides pre-employment drug testing, background searches including multi-level criminal and I-9 verification, as well as corporate wellness discount programs for local employers.
"As our company continues to expand throughout the nation, it is fun for our entire organization to share in the excitement when owners like the Moellenkamps provide this new, affordable, and convenient lab testing service to a community," says Joe Neely, chief executive officer of ANY LAB TEST NOW®.
As part of the Pearland Grand Opening celebration on 5/23, customers will receive 25% off of single tests, $50 off of panels, *free B-12 shots (*from 10am while supplies last), and have a chance to try their luck on the prize wheel giveaway. The ribbon cutting ceremony with the Pearland Chamber of Commerce will take place at 11:30a.m. For more information or for an appointment, please visit http://www.anylabtestnow.com/Pearland.