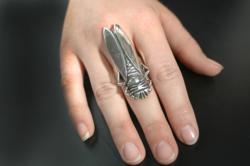 Socrates thought cicadas started out as humans.
Oceanside, California (PRWEB) April 22, 2013
We've all heard that the cicadas are coming back. In fact, when they do, that may be all anyone can hear.
From North Carolina to New York, folks in eastern states are about to endure a summer of very loud songs, gawdy colors, shedding of outer layers and ritualistic mating displays. All this, plus the arrival of the cicadas.
These crazy little buzz bombers are right now digging out, after being in the ground for 17 years. They've been waiting for the signal to spring upon us. It's like that Tom Cruise movie. But with a logical ending.
Of the 2,500 or so species of cicadas, the ones in the eastern U.S. are among the few that wait long intervals to appear. This bunch has been cooling it for 17 years. That's a prime number. Other species hang out for 13 years. Another prime number.
Science thinks this prime number ploy may have evolved to throw off predators. Though in Japan, cicadas are a regular part of summer, and hatch every 1 year. One is also a prime number, but that interval is unlikely to throw off any, but the most confused predators.
In Japan and ancient China, the annual arrival, mating, and disappearance of the cicadas are quite revered. They're considered a welcome confirmation of rebirth, rejuvenation, reincarnation and probably some other words that start with "re". But in ancient Greece, Socrates had a different belief about cicadas.
In the Myth of the Cicadas, Socrates – by all accounts a pretty logical fellow – got it into his head that cicadas started out as humans. Okaaay. He thought the mythical Muses enchanted these humans to sing and dance nonstop, without eating or sleeping, until they died "without noticing it". Neat trick, eh?
But, and here's the fun part, the Muses rewarded these humans-turned-cicadas by letting them sing from birth to death, while watching humans. Then they'd report back to the Muses, as to which humans honored the Muses and which didn't. Kind of a Santa Claus thing, but the downside wasn't a lump of coal in the stocking.
So, what if Socrates was right?
That means, some cicadas are watching the folks in Japan every summer and regularly reporting back to the Muses. But U.S. cicadas only get to report once every 17 years. Wouldn't it make sense then, to butter them up a little?
No, not that way. Oh, they're supposed to taste a bit like shrimp, but munching down on handfuls may cause the thousands watching from the trees to issue a few demerits on the reports. Instead, why not honor Socrates' cicadas and, ergo, honor the Muses.
How? With an icon of precious metal. (Most ancient Greeks would have known the answer to that one.)
Turns out, jewelry designer Alicia Hanson has just come out with a perfect tribute to cicadas. A very cool silver cicada ring. It says "I know you're up there taking notes, and I respect you for it".
So this summer, just be sure to flash this dazzling silver cicada portrayal in full view of the noisy, winged spies flying overhead like Muse drones.
It's sure to impress family, friends, bosses and cicadas. Might even generate a better report card in Muse 101.
COMPANY INFORMATION
Alicia Hanson is an environmental graphic designer by training, but a jewelry designer by heart. Raised in bare feet on the warm sands of Hawaii, she is immersed in the natural wonders of tropical and island influences. Themes of vintage tropical floral, vintage exotica, Hawaiiana and Asian art can be found throughout her work at Alicia Hanson Jewelry.
CONTACT DETAILS
For additional information, please contact Alicia Hanson at 760-696-3736; or email info(at)aliciahanson(dot)com; http://www.aliciahanson.com