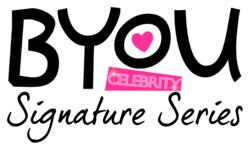 Escondido, CA (PRWEB) April 15, 2013
Be Your Own You, a lifestyle apparel brand that promotes positive thinking and self image, and inspires girls and women to "Be Your Own You" is launching a unique program, the BYOU Celebrity Signature Series, that will bring long term awareness to issues of positive self-esteem and self empowerment among girls and women while raising money for charity.
BYOU's Celebrity Signature Series, allows celebrities to create signature designs that reflect their own personalities and highlight the issues of self-image and women's empowerment, key concepts of the BYOU brand. This new strategy is a simple three step process. BYOU partners with celebrities who create and design a "Signature Series" line of designs incorporating the BYOU brand. The celebrity then chooses a charity to benefit from sales of the designs which will be produced on apparel and various other products. BYOU will market the new designs on http://www.BeYourOwnYou.org for a two week period and $7.00 from every item sold will go directly to the charity the celebrity chooses.
Several celebrities have signed on to this unique fundraising program and the first campaign will launch April 17th, 2013. Every two weeks a new celebrity and BYOU will release a set of new designs to continue to build awareness for self-image issues and continue to raise money for charities year round.
About BYOU - Be Your Own You:
Be Your Own You is a lifestyle brand that empowers girls and women through positive messaging, apparel and accessories, educational programs and a print magazine. BYOU was formed in partnership with Children's Edutainment Network and Cymphonique Miller, one of Hollywood's biggest teen phenoms and the star of the hit TV show How To Rock. BYOU is building a brand that will touch the lives of girls and women worldwide. For more information, and to check out the online store visit, http://www.BeYourOwnYou.org