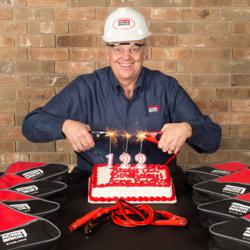 Forth Worth, TX (PRWEB) April 17, 2013
Over 15 years ago, Acme Brick Company began celebrating the company's April 17th birthday by giving each associate a present to honor the occasion. This year Acme associates will receive a roadside assistance kit that includes a pair of heavy duty jumper cables in addition to an emergency flashlight, rain poncho, and "help" sign. "This is an item that nearly everyone can use. We expect that our associates will really jump all over the idea," said company President and CEO Dennis Knautz. "After all, everyone needs a little boost now and then." Knautz added that, "On a more serious note, we want to thank our customers for their support of Acme products over these many, many years. One reason to recognize our birthday is the remind all of us at Acme how fortunate we are to have a thriving company after well over a century in business."
Acme Brick Company http://www.brick.com was founded April 17, 1891 near the small town of Millsap about 35 miles west of Fort Worth, Texas. During the ensuing 122 years, Acme Brick has grown to become the largest brick company in America and one of the few major brick companies that is American-owned.
The "shocking" birthday presents will be distributed at birthday celebrations at each Acme office and plant and at Acme's affiliated companies located in fifteen states.
Acme Brick, the largest U.S. brick company, is a member of the Berkshire Hathaway family of companies headed by famed investor Warren Buffett. Other Acme companies include: Featherlite Building Products, Texas Quarries Limestone, and IBP Glass Block Installation Systems, American Tile and Stone, and Patina Floor Design Stores.
For additional information contact: Marketing Dept., Acme Brick l-800-792- l234 or visit http://www.brick.com.
For more press information contact: Ron Taylor (8l7) 377-l042, cell (817) 874-8206, or e-mail taylorpr(at)spindle(dot)net.