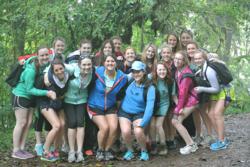 Arlington, TX (PRWEB) April 16, 2013
Eighteen Delta Delta Delta Fraternity members traveled to Costa Rica, March 9-15, to experience Evergreen®, a journey in leadership, sponsored by the Fraternity. Evergreen is a values-based, alternative spring break program that combines the allure of travel with self-examination and personal development. Participants discover the social, historical and geographic contours of Costa Rica while exploring the landscapes of their own hearts and minds.
This year's program was led by Michael Greenberg, owner of Journey 360®. Three participants from last year's trip, Hannah Olsen, Loyola Marymount, Haley Cowan, Oklahoma, and Danielle LaCoste, Baylor, all attended this year as program interns and assisted with program facilitation. Also attending the trip were: Cari Cook, Fraternity Executive Director; Alison Griffin, Fraternity Executive Board Member; Sarah Williamson, Director of Educational Initiatives; and Natalie Trlicek, Chapter Resources Coordinator.
Evergreen 2013 intern Hannah Olsen reflects on her experience, "For me, Evergreen brought about a renewed zest for life and appreciation for the little things. I am so grateful for the friendships forged and the lessons learned on the trip. I am so grateful to have the opportunity to go back to the place where I had such a wonderful experience."
This year, participants were selected in November after an application process that involved essays and questions about their leadership experiences. The 18 women selected represent Tri Delta chapters from across the country.
"As a member of the Executive Board, the ability to have the Evergreen experience with a select group of college women was educational, eye-opening and inspiring," says Alison Griffin. "The time together with our collegiate members gave me the opportunity to learn about the challenges and demands of college life and make a personal connection with some of Tri Delta's finest aspiring leaders."
Sarah Williamson says, "Each moment of the trip provided an amazing correlation to the Tri Delta membership experience and to each individual person's growth and development as a leader. There was so much to see and to appreciate. It's valuable for Tri Delta members, and I would recommend any member to consider attending Evergreen; it offers the break you need from your daily life and a chance to get away with sisters and share an experience that will impact who you are for a lifetime."
Participant Sara Hoffman, Washington State, summarizes the valuable lessons she learned from Evergreen: "Since returning to the U.S., I have seen myself take strides in my personal growth. Evergreen made me more aware of my weaknesses, what I can do to work on them, and has given me tools to become a better communicator and leader — skills that will last a lifetime."
In addition to their leadership training, members also had unique opportunities for adventure, including zip-lining through the rainforest and white water rafting. Tri Delta was especially excited to return to a school in Sona Fluca and help build an addition that will house a library and recreational center as a way to give back to the community.
In honor of Tri Delta, Journey 360 and Affinity Consultants gave a monetary gift to the Sona Fluca school that will help build a new library.
Members who attended this year's trip were:
Whitney Aaronson, Carnegie Mellon
Lauren Abramson, Millsaps
Althea Beaty, Idaho
Christine Brandon, Florida Gulf Coast
Megan Dennehy, Chapman
Anne Donnelley, Idaho
Ashley Erwine, South Florida
Sara Hoffmann, Washington State
Aubrey James, Richmond
Kasie Jones, Texas A&M/Corpus Christi
Sarah Labude, Oklahoma State
Jordan McQueen, Southern Mississippi
Claire Mosley, Baylor
Devan Sinclair, Loyola Marymount
Carli Smith, Maryland
Devin Turnham, Oklahoma
Hannah Weems, Mississippi State
About Tri Delta
Founded in 1888, Tri Delta is a leader among social Greek organizations through its passion for progress and visionary thinking. Through partnerships with nationally recognized organizations like St. Jude Children's Research Hospital, award-winning publications like The Trident, and innovative collegiate and alumnae initiatives, Tri Delta is committed to leveraging our timeless values to revitalize the sorority experience. For more information, please visit TriDeltaEvergreen.com or call 817-633-8001.
About Journey 360
Journey 360 Degrees was conceived in 2008 to develop enduring leaders through transformational travel programs. Journey 360 Degrees enables the "explorer" in all of us to flourish through self-examination, collaborating and empowering others, creating action, for the betterment of the community. For more information, please visit our website or call 847-344-8844.