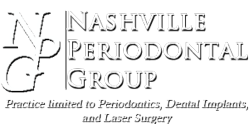 Nashville, TN (PRWEB) April 16, 2013
The Nashville Periodontal Group is now accepting new gum disease patients to benefit from the scientifically proven Laser Assisted New Attachment Procedure. This advanced laser gum surgery has proven to be effective in treating periodontal disease with minimal pain. In addition, recovery time is short so patients don't need to take extended periods of time off of work to receive treatment.
Although there are literally millions of people across the country suffering from gum disease, many of them do not get treatment. Whether they are putting it off because of lack of time or out of fear of traditional treatment methods, the results are the same; they are putting themselves at risk. Not only can periodontal disease cause painful gums that may bleed easily and lead to possible tooth loss, but it has also been scientifically connected to serious health issues. Some of these complications include low birth-weight babies, heart disease and pancreatic cancer.
The technologically advanced laser gum surgery provides a new take on treatment methods. Rather than utilizing a scalpel to cut away diseased gum tissue, the new protocol uses a very specialized and sophisticated laser. The PerioLase MVP-7 laser is designed to eradicate bacteria and dissolve away diseased gum tissue. However, it is not absorbed by the healthy tissue that is left in the mouth. This usually results in less gum recession than one would normally see with the traditional treatment methods.
The laser also helps the gums re-attach to the tooth root after the diseased tissue has been removed, so no sutures are necessary to hold the gums in place. The jawbone is stimulated by the laser to regenerate, which results in stronger teeth. Most patients feel little discomfort with LANAP and are able to quickly resume normal activities. To learn more about laser gum surgery, visit http://www.nashvilleperio.com.
Nashville Periodontal Group is a periodontal practice offering personalized dental care for patients in Nashville, TN. Drs. Akin and Dr. West are part of one percent of dental professionals providing the most recent FDA cleared laser procedure for gum disease and periodontal treatment. Along with laser dentistry they have a strong focus on patient education on gums. To learn more about Nashville Periodontal Group and their dental services visit their website at http://www.nashvilleperio.com and call (615) 800-3686.