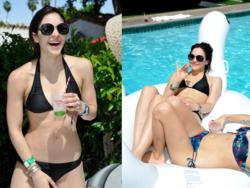 Katharine McPhee goes green and gorgeous, showing off her summer-ready bikini body in an ECO SWIM BY AQUA GREEN made-in-America little black bikini at Coachella Guess Pool Party.
New York, NY (PRWEB) April 16, 2013
Katharine McPhee wore an ECO SWIM BY AQUA GREEN eco swimsuit to the Guess Hotel Pool Party at Coachella April 13th 2013 in Palm Springs, California. Katharine's bikini is made-in-America from recycled nylons and other upcycled materials, reducing her carbon footprint in the sand™ while helping to rid our oceans and beaches of plastic pollution.
ECO SWIM BY AQUA GREEN's sustainable beachwear collection also offers cover-ups made from recycled cotton and renewable sources such as fabrics made with recycled corn and coffee. Along with leading eco-friendly innovations, the brand is known for their fashion forward designs and fun summer beach cleanups. Other celebrity fans include Alicia Silverstone and Nathalia Ramos.
ECO SWIM BY AQUA GREEN is on a mission to provide fashionable, excellent quality, planet friendly swimwear for the conscious consumer. Inspired by the elements of our planet, ECO SWIM BY AQUA GREEN swimwear proves that fashion can make a difference.
Images available at GettyImages.com.
About AQUA GREEN:
AQUA GREEN is one of the world's leading sustainable lifestyle brands that focuses on fashionable consumer products. AQUA GREEN is based in Easton, PA and its swimsuits can be purchased at specialty and department stores as well as on select websites. For more information about AQUA GREEN's environmental leadership, swimwear and events, visit the web site at http://www.ecoswim.com, find the brand on Facebook, Instagram and Twitter @eco_swim.