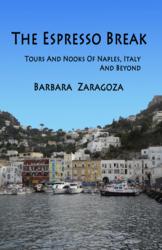 Ever since the seventies, the old adage has been: "You come to Rome to see Italy, you come to Naples to smell it."
Chula Vista, CA (PRWEB) April 17, 2013
Last week, the Public Prosecutor's office continued investigating the large quantity of sludge secretly buried in Sports Park, one of the structures of the former industrial area of Bagnoli, a suburb of Naples. The waste metals, heavily polluted by hydrocarbons, was buried over the course of a weekend in October 2007. Will renewed fears of trash and waste contamination make tourists stay away this year?
Barbara Zaragoza's travel guide, The Espresso Break: Tours and Nooks of Naples, Italy and Beyond (ISBN Number 978-0-9835099-2-9), addresses the Naples trash issue alongside many others. With an entire sub-chapter devoted to trash, Zaragoza explains that media attention on waste issues have been on-going since the 1970's, if not since medieval times.
Her travel guide specifically tries to break down the stereotypes of Naples, which is often associated with mafia, crime and trash. Although these fears often keep tourists away, Naples is one of the oldest cities in the Western world and, therefore, must be a stop on every Italian travel itinerary.
According to Zaragoza, "It can be hard to manage through the crush of traffic, the Neapolitan dialect and the streets that accommodate two thousand year old ruins rather than cars." As a freelance travel writer and a mother of three children, she wanted to provide myth and lore along with pragmatic information to make any stay in Naples turn from frustration to wonder.
The Espresso Break re-creates the Neapolitan cultural feel (old is better) of the city using both tours and nooks to go deeper into the ancient Roman ruins, wandering through the maze of medieval Naples and rising to the modern twists of Neapolitan espresso.
"For expats and the large number of military personnel living there, nine tours and thirty nooks can be enjoyed on the weekends, so that you can see the city again and again, each time in a new light." For tourists, Zaragoza recommends selecting one tour and a few nooks in the city, allowing for ample time to find the sights.
And what about the trash? Neapolitans aren't resting on their laurels. Not only has Cleanap existed for quite some time, but a series of initiatives are being taken to protect the environment in Bagnoli and beyond. The plans of action include new reclamation projects, quality checks on water lines and waste treatment system outlets.
About the Author:
Barbara Zaragoza is a freelance writer with a Master's degree from Harvard University in European history. She enjoys off-beat adventures that tie local history and cuisine together with travel. She has learned around seven languages (piu o meno) and has traveled through 21 countries in Europe, 36 States of America, and five continents. While living in Naples, she wrote for many print and on-line magazines and newspapers. You can find her book and more Naples travel information at http://www.naplesnapoliguide.com.