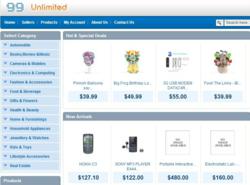 Whoever said money can't buy happiness simply didn't know where to go shopping
(PRWEB) April 16, 2013
The launch of this Online Mega store is welcomed by producers and consumers throughout the globe. 99Unlimited.com provides an excellent opportunity to promote products and also gives easy access to consumers to buy these products online. It is beneficial for both the manufacturers and consumers as manufacturers can save on marketing costs and consumers can save time as well as travelling cost. Moreover, 99Unlimited.com offers these services at a very minimal cost and helps the manufacturers maximize profits. Consumers can buy products and goods at the lowest possible rates, after checking the details and specifications.
Dev IT Solutions, is a well known company in the field of IT products and services. Company has so far launched many Educational Mobile Applications and Mobile Gaming Applications and now the company has launched this amazing online store where manufacturers and owners of e-commerce websites can promote all kinds of products. 99 Unlimited offers a wide range of products being promoted by various manufacturers and e-commerce website owners.
Talking about this amazing Online Mega store, a senior spokesperson from the company said, "We are proud to announce the launch of this extraordinary online mega store which offers wide range of products for consumers to buy and manufacturers to sell. 99Unlimited.com is constantly gaining popularity as one of the best e-commerce websites in the market. Manufacturers and producers can not only promote their individual products, but also their online e-commerce web stores as well. It already features over 500 different products manufactured by various brands and companies including e-commerce web stores. So get yourselves registered today and get one week free trial to promote you products and goods.
For more information, please visit http://www.99Unlimited.com/
About Dev IT Solutions:
Dev IT Solutions is one of the leading companies providing cutting-edge solutions for Mobile Application Development on various platforms. It has a dedicated team for Development of Mobile Applications i.e. iPhone Application Development, Android Application Development, Blackberry Application Development and Window Mobile Application Development.
Contact:
Dev IT Solutions Pvt. Ltd.
A-302, Shapth Hexa,
Opp. Gujarat High Court,
S.G. Highway, Sola,
Ahmadabad – 380060
Email: parth(at)devitsolutions(dot)com
iPhone, iPad are trademarks of Apple Inc., Android is a trademark of Google Inc., Blackberry is a trademark of RIM Inc., Windows is a trademark of Microsoft Inc.