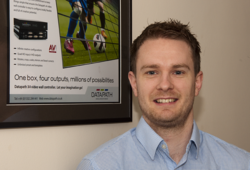 Derby, England (PRWEB UK) 19 April 2013
Datapath are expanding their sales team due to continuously developing their product ranges and delivering outstanding innovative solutions. Datapath are a Derby based leading innovator in the field of video capture, computer graphics and video wall display technology; covering multiple industries such as visual media, military, education, security and health care.
Datapath products are used throughout the world, providing video capture cards, graphics cards and other forms of digital solutions for video wall. We have an increasing number of distributors for our video wall and video capture products globally.
At the end of last year Greg Babbs joined the team, he has over 7 years experience in sales and account management roles with national and international companies.
Greg has been appointed to the role of Sales and Account Manager, responsible for EMEA and South America accounts.
"We are very pleased with Greg joining the Datapath team and enabling us to put additional effort our indirect channels to market in Europe Middle, East and Latin America," said Bjorn Krylander and continued, "at Datapath we believe it's essential to support our distributors with good product information, great support, in depth product training, and commercial support in local markets."
-THE END-
About Datapath Limited
Datapath Limited is a world leading innovator in computer graphics, video capture and digital display technology.
Founded in 1982 and now distributing across five continents, Datapath has end customers in more than 100 countries Worldwide; covering multiple industries such as visual media, military, education, security and health care.
Consistently meet standards of excellence with the delivery of quick and effective support, and providing unbeatable customer service for any specialised requirement.
With Datapath's expertise, quality focus and dedicated customer support make the products the first choice for customers requiring solid, high-reliability solutions.