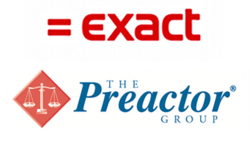 It offers our customers a reliable basis to use Exact solutions worldwide in combination with the recognised advanced planning solutions of Preactor.
Delft, Netherlands (PRWEB) April 16, 2013
DELFT-based software company Exact today announces a strategic alliance with worldwide leader in advanced planning and scheduling (APS) software Preactor.
The agreement formalises a long-standing relationship between the two firms, whose products complement each other. This will ensure a smooth collaboration between the companies on a global scale, to create more customer value.
The agreement will see Exact expanding its existing ERP offering to a wide range of manufacturers by adding in the option for clients to access advanced planning solutions.
Exact offers a comprehensive mix of business software solutions to its clients, including Exact Globe Next. The addition of Preactor products will allow Exact's clients to schedule production to make optimum use of finite resources to meet manufacturing deadlines. They can be integrated with existing IT software such as ERP systems provided by Exact.
This means clients can lower their production costs, improve delivery times, and ensure better customer service.
Jarno van Hurne, Product Marketing Director at Exact, said: "Preactor has been our partner for many years now and we have worked together to help clients across the globe.
"This agreement underlines our partnership. It offers our customers a reliable basis to use Exact solutions worldwide in combination with the recognised advanced planning solutions of Preactor."
The agreement was brokered by Preactor's Dutch business development partner, Evologics, and Sales Manager and Deputy Director Arjo Oldenbeuving said they were delighted.
"Exact and Preactor products work together to ensure manufacturers across all types of industries maximise their reliability and, consequently, their profits," he said.
"We're pleased to have formalised the relationship between them."
Valérie Goulévitch, Head of Global Marketing and Communication at Preactor, added: "Preactor and Exact share a common vision and approach, as well as a unique corporate culture focused on innovation and client success.
"We see this alliance as a strategic, long-term relationship for our two companies."
Preactor software is already used by more than 4,500 customers across 75 countries, and is translated into over 30 languages.
About Exact
Exact is a leading global supplier of business software. Since we began in 1984, our focus has shifted from supporting financial processes to providing a complete ERP offering for small and medium-sized businesses. Innovative solutions such as Exact Globe, Exact Synergy and Exact Online support over 100,000 customers – local and international companies – in the daily management of their business.
Exact develops industry-specific on-premises and cloud solutions for manufacturing, wholesale and distribution, professional services, small business, and accountancy. Exact is headquartered in Delft, the Netherlands, and has been listed on the NYSE Euronext Amsterdam since June 1999. The company booked revenues of € 217.1 million in 2012.
For further information about Exact, visit http://www.exact.com.
About the Preactor Group
The Preactor Group of companies represents world leadership in production planning and scheduling software used by a wide range of businesses. Frequently integrated with ERP, MES and Supply Chain Management solutions, Preactor's breakthrough technology is used by more than 4,500 small, medium and large multinational companies located in 75 countries.
The Preactor Group and its subsidiaries have established partnerships with more than 400 companies located around the world to provide local expertise to support the implementation of the solution for each company. These 1000+ accredited professionals offer a key resource working closely with users to ensure each company's unique requirements are met.
The current trends in manufacturing are towards lowering inventory levels to reduce costs yet still being able to respond to shorter lead times to satisfy customer demand. Preactor offers a family of applications ranging from mid- and long-term capacity planning to detailed scheduling and is translated into over 30 languages.
Preactor celebrates its 21th anniversary this year. For more information about Preactor, visit the website at http://www.preactor.com and follow on Twitter at http://twitter.com/Preactor.