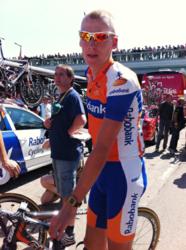 The Polar RC3 is the first-ever integrated GPS watch for cycling and running from Polar and these 100th Anniversary Tour de France editions look super cool
Bozeman, MT (PRWEB) April 16, 2013
The new Polar RC3 Tour de France Limited edition for the 100th Anniversary of the Tour de France is now available at the Heart Rate Watch Company.
"The Polar RC3 is the first-ever integrated GPS watch for cycling and running from Polar and these 100th Anniversary Tour de France editions look super cool", says Rusty Squire, President of the Heart Rate Watch Company. He adds, "This version has altitude and is one of the best looking Polar watches we have ever seen, but it is only here for a few short months and its gone".
Real professional athletes use Polar
Athletes like Tour de California winner Michael Rasmussen, Renae Taaramae of Cofidis and lots of others in the pro peloton rely upon Polar for their heart rate data. There are a lot of companies that can't make this claim because they sell a product but don't become adopted by those at the highest level of sport. For Heart Rate Watch Company this is an "acid test" for quality.
"We appreciate the fact that company's like Polar conduct athlete testing and provide top-level athletes with product to acquire feedback", says Squire. He adds, "Polar has always led the way with pro teams and in human performance testing and this is why they make great products".
Three versions
The Polar RC3 Tour de France comes in three versions. The first version is simply the watch with no chest strap and transmitter for those who have a prior Polar transmitter. The second version is the watch with the transmitter and the third version includes a cadence sensor for cycling.
The new Polar RC3 Tour de France 100th anniversary official training computer is available now at the Heart Rate Watch Company.