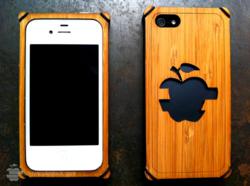 Kansas City, MO (PRWEB) April 18, 2013
Steel Table Group is proud to announce a brand new take on the iPhone case. Mixing organic design and practical artistry, AppleStack layers laser-cut bamboo to create a functional and beautiful wooden iPhone case. It's perfect for designers, DIYers and anyone who wants a custom look to reflect their sustainable style.
The creation is uniquely assembled, applied layer-by-layer in a puzzle-like process and the stackable design allows for effective button and port access ensuring great usability. The layers also allow for any potential damage or design changes to be addressed by swapping out select layers instead of replacing the whole case.
"AppleStack is distinctive and allows for hands-on engagement in a way that no other standard case can offer. Each detail not only contributes to its beauty, but even more important, to the functionality in how you use your phone," said Bob Coulston, Steel Table Group member.
For example, the o-ring holders that secure the stackable layers maintain a tight grip and protect the wood from resting surfaces. They even eliminate the nuisance of noise when the phone vibrates on solid surfaces.
With thoughtful details and a sustainable flair, it's easy to see why Applestack will be your next iPhone case. Currently, Applestack can be purchased through a live Kickstarter campaign that runs through April 23rd. http://www.kickstarter.com/projects/47180844/applestack-hand-stackable-layered-bamboo-iphone-ca?ref=live
About Steel Table Group
Steel Table Group is an open exchange of ideas and talents amongst a select and diverse team of creative professionals with the impassioned desire of fueling new products to the market, both individually and collectively. To learn more about Steel Table Group, visit http://www.steeltablegroup.com/.