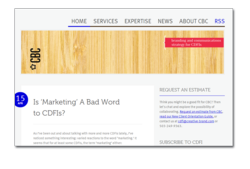 We've developed a real passion for the deeply important work that CDFIs do in communities...
Portland, Oregon (PRWEB) April 17, 2013
Creative Brand Communications (CBC) today introduced a new CDFI branding and marketing blog website for the community development financial institution industry, at http://www.CDFIbrand.com. The online publication is the first and only resource dedicated to discussing the unique marketing, branding and communications challenges and issues faced by CDFIs.
"We've developed a real passion for the deeply important work that CDFIs do in communities, and we believe a key factor to increasing impact and success of CDFIs will be the industry's ongoing enhancement of its branding, marketing and communications expertise," said Jeff Stephens, founder of Creative Brand Communications. "The marketing and branding issues of CDFIs are unique enough that we wanted to create a separate home for discussion about these topics," he added.
CBC's goal with the blog website is to provide thought-provoking ideas, commentary, peer advice and experience sharing that supports individual CDFIs in their growth efforts, as well as contribute to the industry-wide CDFI brand.
CBC believes the blog will deliver the greatest benefit to the CDFI industry if visitors comment on the posts, offer their opinions and share their experiences, and CBC strongly encourages them to do so.
The site also features a blogroll of community development links. If you're interested in being added to the blogroll, please contact CBC at cdfi(at)creative-brand(dot)com.
# # #
About Creative Brand Communications
CBC is the leading brand engagement consultant for the financial services industry. The company helps entrepreneurial banks, credit unions and community development financial institutions (CDFIs) create companies that customers, members, partners and employees truly care about. CBC does this by providing business and brand strategy consulting, word of mouth marketing strategy consulting, internal culture consulting, and educational programs and training. Visit http://www.creative-brand.com for more information.