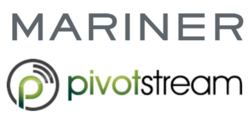 Seattle, WA and Charlotte, NC (PRWEB) April 23, 2013
Pivotstream LLC, provider of the world's first enterprise-class hosted PowerPivot platform, and Mariner, a leading provider of data-driven solutions for decision support, PowerPivot workshops and solutions, and a Microsoft Gold Partner, today announced a major strategic partnership designed to bring secure and performant on-demand Microsoft-based BI to the SMB and Enterprise markets.
"The capabilities of our hosted platform have evolved dramatically over the past twelve months," said Pivotstream CEO Jeff Elderton. "Just getting SharePoint and PowerPivot running well together in the cloud used to be a big deal, but we now support massive vertical solutions in pharmaceutical, retail, and consumer product goods (CPG) on a highly secure, compliant, and performant platform built on SQL 2012, Excel 2013, and SharePoint 2013. We offer hosted PowerPivot, tabular, and hosted SQL Server, and through this new partnership we add the capability to support Tableau and complex ETL processes. Additionally, our partnership with Mariner provides us with significantly enhanced training and solution delivery capabilities, consulting services, and sales and marketing reach."
"Pivotstream is quickly becoming the go-to platform for working with PowerPivot in the enterprise by providing a customized and high performing cloud interface while unloading infrastructure complexity from already busy internal IT resources," said Javier Guillen, Senior Business Intelligence Consultant and PowerPivot Evangelist. "With data centers in the United States and Europe, cutting-edge software, operational expertise, and a proven understanding of the requirements of corporate IT and business analysts, Pivotstream has built a platform that enables us to apply self-service BI best practices securely and efficiently, delighting customers with measurable business value very quickly."
"Mariner is driven by a passion to deliver high quality, high value business intelligence solutions rapidly," commented Philip W. Morris, CEO and co-founder of Mariner, "Our Pivotstream partnership contributes to our 'need for speed' by giving us nearly instantaneous availability of a secure cloud-based platform that will host any solution in Mariner's portfolio – from analytic sandboxes to industry specific frameworks and customized solutions – at a price that's extremely affordable for companies of all sizes," he added.
"Our products are easy to use and relevant. It's one of our goals to compel experts and attract neophytes," said Frank Fulton, Pivotstream COO. "We've invested in the technology and the operational expertise necessary to gain credibility as a platform provider, and now this partnership is the lodestone of an evolving partner ecosystem designed to insure that people can download our solutions and get started solving their data challenges today."
About Pivotstream – Headquartered in Seattle, WA, Pivotstream is the leading provider of hosted PowerPivot and Tabular MSFT BI solutions, delivered globally on the Pivotstream Platform. The Pivotstream brand represents a heritage of quality, customer commitment, analytical expertise, and trust. Pivotstream offers customized and templatized advanced analytics and business intelligence solutions for retail, pharmaceutical, finance, manufacturing, oil and gas, project cost management, and many other vertical segment. For further information, visit http://www.pivotstream.com.
ABOUT MARINER - For more than 15 years, Mariner has been helping clients leverage their data - from any data source to any device - through the use of business intelligence, analytics, data warehousing, business scorecards and performance management dashboards. Mariner serves clients in a variety of industries including utility, healthcare, retail, media and manufacturing sectors. Singularly focused on providing analytic solutions, we help business people organize, use, analyze and share data to achieve financial and operational goals. Equipped with Mariner's solutions, organizations are able to improve sales, customer service, logistics, productivity and financial insight. Mariner is a Microsoft Certified Gold Partner with competencies in Business Intelligence and Data Platform. Mariner-Insight to Achieve. http://www.mariner-usa.com
For additional information Contact:
Sally Phillips, Vice President of Marketing, Mariner
Tel. 704.943.5222
Email sally.phillips(at)mariner-usa(dot)com
Frank Fulton, COO, Pivotstream
Tel. 425.249.3390 ext. 8
Email frank(at)pivotstream(dot)com
Product or service names mentioned herein may be the trademarks of their respective owners.