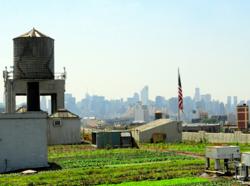 "With 80% of all people living in cities, we need to increase awareness of food sovereignty and food deserts and discover ways that food production in urban environments can emerge as a prominent and viable alternative," George Pisegna, The Hort
New York, NY (PRWEB) April 18, 2013
From Wednesday, May 15 through Friday, May 17, The Horticultural Society of New York(The Hort) will present its third annual and largest ever Urban Agricultural Conference (UAC).
The UAC will open with an evening reception and work-in-progress screening of "Growing Cities," a documentary that examines the role of urban farming in America and its power to revitalize cities and change the way we eat. The following morning, keynote speaker Manhattan Borough President Scott M. Stringer will kick-off a day of innovative panel discussions and lectures led by some of the most prominent organizations and individuals in the movement.
"The Hort has been committed to urban gardening for over 100 years, yet the focus has evolved and expanded with changing social and environmental issues," says The Hort's Director of Horticulture and Public Programs George Pisegna. "Today with 80% of all people living in cities, we need to increase awareness of issues surrounding food sovereignty and food deserts and discover ways that food production in urban environments can emerge as a prominent and viable alternative."
On the final day, conference participants will visit farms in Manhattan, Brooklyn, and Queens. Among the sites to be visited are Brooklyn Grange(in the Brooklyn Navy Yard), a 65,000 sq ft rooftop farm hovering eleven stories over the East River; Eagle Street Rooftop Farm, the nation's first commercial rooftop farm; Randall's Island Park Farm, NYC's only working rice paddy operation; Window Farms in the Global Kitchen Exhibition at the Natural History Museum; the Waldorf Astoria kitchen garden and beehives; and Battery Urban Farm at the southern tip of Manhattan.
"Growing Cities" filmmaker Dan Susman notes, "Urban farming connects people to their food, strengthens communities, creates jobs, revitalizes blighted areas. It allows us to reimagine what's possible in cities. It challenges us to get beyond the urban/rural divide — to really think about how we can all be producers in a society driven by consumption."
UAC panelist, Carolyn Dimitri of NYU, an applied economist with expertise in food systems and food policy who is studying urban agriculture in 15 US cities says, "In a city like New York… urban farms are a reminder, or perhaps an awakening … that our food does come from the tending of soil and seeds, and not the supermarket." She notes though that solutions are not easy: "One concern I have is that we are asking too much of urban agriculture. Is urban agriculture the panacea for our urban food problems, such as uneven food access and poor health? And is it possible for our urban farmers to make a living, tending the soil in our cities?" These questions, and more, will be explored over three days.
Wednesday, May 15 – Opening reception and work-in-progress screening of Growing Cities at Brooklyn Lyceum, 6 pm to 8:30 pm
Thursday, May 16 – Panel discussions at NYU Kimmel Center, 9 am to 4 pm.
Friday, May 17 – Field tours of urban farms in Manhattan, Brooklyn, and Queens, 10 am to 4 pm.
For a complete agenda of the UAC, visit http://thehort.org/UAC/
Information on press passes is available on the website.
About The Hort
The mission of the Horticultural Society of New York (The Hort) is to sustain the vital connection between people and plants. Our social service and public programs educate and inspire, growing a broad community that values horticulture for the many benefits it brings to our environment, our neighborhoods, and our lives.
Learn more at http://www.thehort.org
# # #