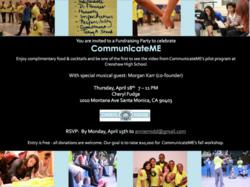 Los Angeles, California (PRWEB) April 16, 2013
CommunicateME, a Los Angeles organization that creates art-based workshops for students with limited resources, will host its first fundraiser, April 18th from 7 p.m.-11 p.m. at Cheryl Fudge to raise funds for their next workshop.
The event will take place at the famous Cheryl Fudge Santa Monica, home of the Cheryl Fudge Fashion Camp on Montana Ave. In addition to drinks, food and live musical performances, the fundraiser will also release the promotional video that showcases CommunicateME's first workshop at Crenshaw High School.
Guests will span from socially aware artists to community leaders in the entertainment and fashion industries.
Proceeds from the fundraiser will go towards bringing CommunicateME's four-day workshop to a Los Angeles high school this fall. CommunicateME's workshops bring professional artists to inner city schools in order to foster communication and collaboration through the arts. Students learn to utilize the skills they acquire in practical ways, and each workshop concludes with a final performance for the students' families, friends and community.
All are welcome to attend this event, but guests are encouraged to RSVP to Annie Middleton by Wednesday, April 17th at annie(at)communicateme(dot)org
About CommunicateME: Founded in 2012 by Annie Middleton, Katharine Stofer, Tess Fenn and Morgan Karr, CommunicateME (http://www.communicateme.org) is a project that takes professional artists into inner city schools to lead performing arts workshops with the students. The end result is original material created with/by the students performed for their school and community. CommunicateME just completed their first workshop at Crenshaw High School in February 2013, and they are currently raising money for their next workshop, to take place in the Fall of 2013.
For Media RSVP's or to schedule an interview with the CommunicateME Founders or Cheryl Fudge, please contact: Kelley Coughlan, Melrose PR, Kelley(at)melrosepr(dot)com, (310) 450-7960, http://www.melrosepr.com.