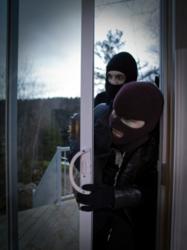 Burglars tend to target homes that they can get away from easily without detection. For a burglar, an ideal home would be located in a dark, lifeless neighborhood with good hiding places and escape paths, such as overgrown bushes or trees in the yard.
Irving, Texas (PRWEB) April 18, 2013
The preliminary 2012 Uniform Crime Report published by the FBI recently reported that nearly every U.S. region saw increases in property crime, burglary and robbery in 2012 compared to 2011.
Thanks to technology and innovative security measures, homeowners don't have to become a part of the burglary statistic. The Electronic Security Association (ESA) offers homeowners insight into the mind of a burglar, along with tips for reducing the risk of a burglary.
Most home burglaries can be classified as random opportunistic acts – not planned events. Homeowners can protect against burglary by looking at the weaknesses of their home from a burglar's point of view. Here are a few questions a burglar might ask when deciding on a house to target.
Is anyone home?
The first thing many burglars do is check to see if anyone is home. Sometimes the burglar will simply knock on the front door. If someone answers, he or she may make up an excuse for the disturbance, such as being lost and needing directions. If the knock at the door goes unanswered, the burglar may turn the door knob to test for an unlocked or easily accessible door.
Traditional locks aren't always the answer to home protection. On average, burglars will spend no more than 60 seconds on defeating locks to gain entry to a home. To better protect their homes, homeowners should consider upgrading to deadbolts and reinforcing the frame of their front door to make a break-in more strenuous for the burglar.
Is the home equipped with an alarm system?
A 2009 study by the Rutgers School of Criminal Justice found that an installed security system makes a dwelling less attractive to would‐be and active burglars and protects the home without displacing burglaries to nearby homes. Additionally, the Cromwell-Olson-Avary study, conducted to better understand offenders' perception of the risks and rewards involved in criminal activity, found that nearly all convicted burglars (90 percent) admitted that they would avoid homes that are equipped with security systems. The study also revealed that if a potential burglar sees a yard sign or window decal from a credible security company outside of a home, around 75 percent would think twice about going through with an attack. But signs and decals aren't enough to deter a burglar; security systems are the best protection against home burglary.
To aid them in their security needs, ESA urges homeowners to enlist a security company that is a member of ESA. ESA member companies are experienced professionals and must adhere to a strict Code of Ethics and Standards of Conduct. To ensure maximum protection, an ESA member company will recommend and install a system that accommodates both the features of the home and the homeowner's lifestyle. Homeowners can find an ESA member company in their area by visiting Alarm.org, an online home security resource for consumers.
Will anyone notice?
Burglars tend to target homes that they can get away from easily without detection. For a burglar, an ideal home would be located in a dark, lifeless neighborhood with good hiding places and escape paths, such as overgrown bushes or trees in the yard.
Hiding areas can be eliminated by keeping the landscaping neatly trimmed and using an enhanced security system complete with timed or remotely-controlled lights and surveillance. These sophisticated systems give homeowners the ability to set timers and control various aspects of their homes via a smartphone, tablet or other web-enabled device.
This technology, also known as smart home technology, is in high-demand among homeowners because of its convenient features. With smart home technology, homeowners can control indoor or outdoor lights, lock and unlock doors, arm their security system, and monitor activity within the home through surveillance cameras all via the web. Enhanced home control systems blend elements of security and accessibility to provide homeowners with maximum protection against burglary.
Homeowners wanting to upgrade the security of their homes should seek help from a trustworthy security company with expertise in smart home technology. SECURE+ integrators are the most trusted and highly qualified enhanced home security specialists across the nation. Homeowners can find a SECURE+ integrator in their area here.
By thinking like a burglar and using enhanced technology to reinforce security at home, homeowners can protect their property and keep their family safe from crime. Visit Alarm.org for more helpful tips on safety and security.
ABOUT ESA
Established in 1948, the Electronic Security Association (ESA) is the largest trade association representing the electronic life safety and security industry. Member companies install, integrate and monitor intrusion and fire detection, video surveillance and electronic access control systems for commercial, residential, industrial and governmental clients. In cooperation with an alliance of chapter associations, ESA provides technical and management training, government advocacy and delivers information, advice, tools, and services that members use to grow their businesses and prosper. ESA may be reached at (888) 447-1689 or on the Web at http://www.ESAweb.org.