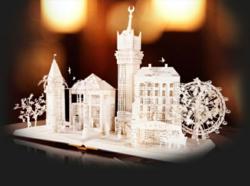 Abu Dhabi, United Arab Emirates (PRWEB) April 18, 2013
An arresting work of art itself with a translucent glass façade, striking interior design and serving as the cultural gateway to Abu Dhabi, Fairmont Bab Al Bahr is pleased to welcome renowned UK artist Su Blackwell to the Abu Dhabi hotel from April 28 – May 11, 2013. Kicking off Fairmont's inaugural Artist in Residency program, Blackwell will work at an onsite studio located in the hotel lobby to reconstruct the Capital's most iconic landmark – Sheikh Zayed Grand Mosque - through the medium of paper crafting and sculpture.
Open to the public, hotel guests and Abu Dhabi residents will witness various stages of the mosque recreation at a temporary hotel lobby studio where Blackwell will also work against the backdrop of the actual Sheikh Zayed Grand Mosque. Lauded for its worldly design, the mosque is heavily steeped in Mughal and Moorish architecture, with direct influences from the Badshahi Mosque in Lahore, Pakistan and Hassan II Mosque in Casablanca, Morocco. Artisans from Italy, Germany, Malaysia, Pakistan, the United Kingdom and many others helped bring this cultural and spiritual feat to fruition, which Blackwell will attempt to replicate through imagery exploration, cut out illustrations and various paper treatments through a 50cm x 75cm size diorama.
In addition to this rare opportunity to witness the artist at work at the luxurious Fairmont Bab al Bahr, the Abu Dhabi hotel is also offering workshops and a rooms packages for guests to learn more about the Artist in Residency program and to get involved with this dynamic art form.
WORKSHOPS - Building an Icon Through Paper
Date: Saturday 4 May; Saturday 11 May
Time: 2 – 3:30pm
Price: AED 125 per person, and includes the Golden Afternoon Tea experience; AED 195 with the Golden Afternoon Tea and a glass of sparkling beverage.
Location: The Chocolate Gallery, lobby level, Fairmont Bab Al Bahr
Language: English (Arabic session also available)
Details: Blackwell will guide guests through a journey of paper as one of the earliest and most accessible art forms, allowing guests to use this medium under her guidance to visually build a story, as well as sharing details on her most current project - Sheikh Zayed Grand Mosque.
ROOM PACKAGE – 'Be an Artist in Residence'
Available from 27 April – 9 May, guests will have the opportunity to experience unrivalled accommodation at the Fairmont Bab Al Bahr and be a part of the Artist in Residence program for a day. Package includes:

One night accommodation in a Fairmont Room
Breakfast for two at CuiScene
Private 1 ½ hour workshop with Su Blackwell
Bespoke paper souvenir from Su Blackwell
Starting from AED 844 per night. Rates are per night in a Fairmont Room based on double occupancy. Subject to availability. Rates are subject to 10% service charge and 6% tourism fee.
About Su Blackwell
Exploring the themes of folklore, spiritual rituals and cultural tales, Blackwell predominantly works with one of the oldest and most time honoured mediums - paper, in addition to her technical training with textiles and other materials. A graduate of the Royal College of Art, in London, her paper structures are exhibited extensively in the United Kingdom, where her permanent studio is located, and abroad, with various campaigns including the pop up passport for British Airways, a fairy tale winter wonderland book sculpture for Crabtree & Evelyn and an advertising campaign for Swedish car manufacturer Volvo. Her 2011 project with Fairmont Hotels & Resorts resulted in the conversion of a hotel guestbook into four iconic Fairmont properties – The Savoy Hotel in London, Fairmont Zimbali Lodge in South Africa, the Makkah Clock Royal Tower in Saudi Arabia and the Fairmont Peace Hotel in Shanghai, China, as part of the 'Art of Fairmont. Be Part of the Next Chapter' awareness initiative in the Middle East.
A frequent contributor to Intelligent Life magazine and Harper's Bazaar UK, Blackwell finds inspiration through "the realm of fairy tales and folklore," adding, "paper has been used for communications since its invention and I employ this delicate, accessible medium and use irreversible, destructive processes to reflect on the precariousness of the world that we inhabit and the fragility of our life, dreams and ambitions."
About Artist in Residence
The Artist in Residence program is a collaborative initiative that joins a local or regional artist with the Fairmont Bab Al Bahr to provide an onsite hotel studio space, specialized workshops open to the public and the production of a work of art that is presented to the hotel as part of its permanent art collection or as an auction piece for a local charity. Blackwell is the first artist of the program, and although hailing from outside the region (United Kingdom), her use of paper to recreate the largest mosque in the United Arab Emirates and the eighth largest in the world, will meld together traditions from the region with local architectural design.
For more information or to make a reservation, please contact +971 2 654 3000 or visit fairmont.com/babalbahr.
ABOUT FAIRMONT HOTELS & RESORTS
With more than 60 destinations around the globe, Fairmont Hotels & Resorts is a celebrated collection of landmark, luxury hotels. For more information or reservations, please call 1-800-441-1414 or visit fairmont.com
Become a fan of Fairmont. Join our online communities at everyonesanoriginal.com, twitter.com/fairmonthotels, and facebook.com/fairmonthotels. For career opportunities, visit facebook.com/fairmontcareers.