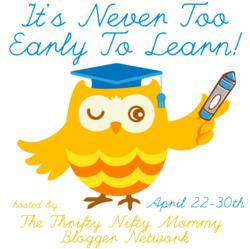 Carmichael, California (PRWEB) April 18, 2013
Beginning Monday, April 22nd a 1-1/2 week giveaway event kicks off focused on 'it never being too early to learn.' The event is hosted by the mom bloggers involved in the Thrifty Nifty Mommy Blog Network. Reagan's Toy Chest has been chosen as the grand prize giveaway to cap off the event on April 30th.
Reagan's Toy Chest is an online educational toys for toddlers store that's primary focus is providing educational toys for toddlers to every family. Fun can be had while learning. "I am so excited to be a part of this giveaway event," says Lanaya Cooper, owner of Reagan's Toy Chest. "My online store is geared to show parents that you can start your children at an early age with toys that will stimulate the imagination; giving toddlers an edge with educational toys that assist with learning and development before they hit preschool."
Cooper is also the author of the top mommy blog Raising Reagan which was recently ranked number 41 in the United States by Coupon Audit. Through her blog she found the Thrifty Nifty Mommy Blog Network. Ruth Veltoro, author of Viva Veltoro mommy and review blog brought Reagan's Toy Chest on board with the event.
"We're doing this event to focus on early learning. Many of us are stay at home moms, or homeschooling moms, and we thought it'd be great to highlight some of our favorite companies and introduce a few new ones to our readers that focus on early childhood learning. It's never too early to start educating your child and encourage imaginative play," said Veltoro.
Here is a line up of the 1 1/2 week event beginning Monday, April 22nd:
April 22 Learning Resources Tri-Facta game - review/giveaway
April 23 Thomas & Friends DVD review/giveaway
April 24- Little Learning Lovies - giveaway
April 25 Early Lingo 6 DVD set in any language - giveaway
April 26- ABCmouse.com - giveaway
April 27 Geotoys - GeoDice giveaway
April 28 Baby Genius Toys- giveaway
April 29 Little Pim - 3 Disc Set in Language of Choice - review/giveaway
April 30 Reagan's Toy Chest - Grand prize - giveaway
The giveaway event will be hosted on several blogs including Viva Veltoro, Thrifty Nifty Mommy, Housewife on a Mission, and Open Hands. "I am so proud to have my educational toys for toddlers highlighted as the grand prize for the finale," says Cooper. "Please support early learning and come out for the event. It's going to be fantastic with several giveaways!"
About Reagan's Toy Chest:
LRB Enterprises, LLC, is a family-owned business located in Carmichael, California. The business operates online retailer Reagan's Toy Chest which is dedicated to providing the best toys for toddler, educational games and unique children's gifts.
Owner, Lanaya Cooper has a background in Communications and Human Development having done her bachelor's work at the University of California, Davis. Cooper is also the author of the daily blog Raising Reagan. The blog delves into the joys and challenges of raising a precocious toddler and includes reviews and giveaways of educational toddler toys. The blog was just named in the Top 50 Mommy Blogs in the US by Coupon Audit.
Please visit Reagan's Toy Chest or Raising Reagan on the web to learn more about the giveaway event or contact customer support at 888-683-1910.