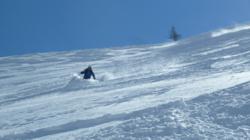 Snow conditions across the Alps are great at the moment which has extended the ski season.
(PRWEB UK) 18 April 2013
With fresh snow falling across the Alps the ski season has just been officially extended.
To celebrate Mountain Drop-offs has put together a partner package which gives skiers and boarders the opportunity to book a great value last minute break in Chamonix.
The airport transfer specialist has extended its Super Saver 28.50€ fare until 12 May 2013 to match the date that the legendary Grands Montets ski area will now close.
Couple that with a three-for-two night deal on accommodation courtesy of Hotel de L'Arve and airline partner SWISS' promotional fare of just £99 for return flights from London to Geneva and a Spring ski break is just a few clicks away.
"Snow conditions across the Alps are great at the moment which has extended the ski season," explains Mountain Drop-offs' Managing Director Simon Hills.
"We decided to celebrate that by extending our high-season pricing and developing a package with our partners to give our customers the opportunity for great value Spring skiing, and this is the result.
"As a business we are used to constantly adapting to take account of the day-to-day impacts of changing weather conditions. It's great to be able to put those skills to use in extending our winter season."
The fantastic conditions also mean that the ski touring season is likely to last longer than usual too. Mountain Drop-offs is also offering an extensive schedule of transfers between Chamonix and Zermatt – the start and finish of the iconic high route ski traverse so beloved of ski tourers.
Even after the lifts close, Mountain Drop-offs will continue to operate daily shared transfers from Geneva Airport to Chamonix with it Flexi Shared fare of 35€ throughout the inter-season. Private transfers will also be available to destinations across the Alps. Details can be found at http://www.mountaindropoffs.com or by calling +33 4 50 47 17 73.
Anyone wanting to keep up to date with the latest news and offers from around the Alps can follow Mountain Drop-offs on Facebook at http://www.facebook.com/mountaindropoffs or on Twitter @MountnDropOffs.