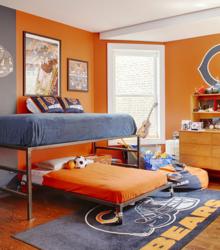 Sports posters personalize your space with the teams and athletes that inspire you and create an energized environment for big game nights and championship parties.
Toronto, Ontario (PRWEB) April 23, 2013
With baseball, basketball and hockey season all going strong, many sports fans love to show their pride by covering their "fan cave" walls with sports posters of their favorite teams and players. SportsPosterWarehouse.com, North America's biggest online sports poster retailer, is often a first stop for avid fans shopping for team pennants, posters and sports decor ideas.
But a sports-themed room isn't for everyone. While passionate sports fans often want to cover every inch of their "fan zone" in mini helmets, foam fingers and jerseys, their more reserved spouses or family members sometimes object. That's where interior designer Ruthie Alan comes in.
Alan is used to balancing challenges such as an eight year-old boy's passion for the Chicago Bears with his design-savvy mom's desire to avoid having his room look like the official NFL team store. Her firm, Alan Design Studio, has found ways to make sports-themed bedrooms and fan caves look contemporary and modern, while stylishly displaying those beloved sports posters, pennants and game mementos.
Alan and Sports Poster Warehouse President Neil Flagg emphasize four design "must-dos" for creating a fan cave that also scores decor points:
Tip 1: Get Your Favorite Sports Posters Professionally Framed
Whether it's a sports poster celebrating the Ravens' Super Bowl win, LeBron James' famous triple slam, a panoramic of Yankee Stadium, or a breathtaking black and white profile of Muhammad Ali training underwater, a sports fan's favorite choice makes their room as individual as they are. "Sports posters personalize your space with the teams and athletes that inspire you and create an energized environment for big game nights and championship parties ," says Flagg.
His most important advice when it comes to sports posters? Get them properly framed! The days of posters being hung with pushpins, or worse still, a few pieces of tape, are best left in your teen years. "Framing enhances the poster's look and lifespan, and lets you re-hang it, damage-free, if you ever move or re-decorate." This means a fan's vintage 1982 print of Wayne Gretzky playing for the Oilers, will stay looking good for years to come!
Tip 2: Exercise "Memorabilia Moderation"
Alan advises "memorabilia moderation" when decorating a sports-themed room. "You paint your face on game day…but you wouldn't want to walk around like that all the time!", says Alan. " A room, where every square inch is filled with foam fingers and bobbleheads, can end up look junky and overwhelming." Instead, she suggests a minimalist approach. "Rather than displaying all your game-day memorabilia, choose a few favorite pieces and focus on displaying them sparingly, but artfully," says Alan. One or two championship sports posters, celebrating a favorite athlete or team victory, framed properly, can give the room a focal point, rather than four jerseys cramped together on a single wall.
Tip 3: Be Consistent with Team Colors
Creating the perfect fan space should also start with finding out the exact team colors. "If they're even slightly off, accent pieces won't coordinate, so it's important to do your homework", says Alan. "Look up the exact paint colors to maximize the coordinated effect. You can also bring a jersey into the paint store and compare it against swatches to find the exact Pantone color."
Tip 4: Add Accent Pieces and Non-Sports Accessories
Accent pieces, such as throw pillows or area rugs in the team colors, can carry the fan theme throughout the room. "Don't be afraid to let other aspects of the sports fan's personality come out in the décor," says Alan. When she designed her client's son's Chicago Bears room, she left room for a drum set and guitar, highlighting his interest in music, as well as football.
About The Sports Poster Warehouse
The Sports Poster Warehouse is North America's #1 source for new, rare and vintage sports posters and pennants. Their catalog covers more than 10,000 different posters, pennants and team flags, including NFL, NHL, MLB and NBA posters. Launched in 1998, with headquarters in Toronto, Ontario, The Sports Poster Warehouse also has a local commercial showroom. For rapid delivery across the USA, Canada and around the world, visit SportsPosterWarehouse.com.