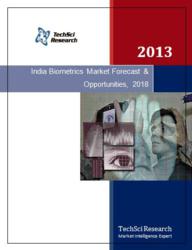 Lack of data protection, improper border security, terrorist threat, population growth and technological advancements driving Indian biometric systems market revenues
Vancouver, Canada (PRWEB) April 22, 2013
According to the recently published report by TechSci Research "India Biometrics Market Forecast & Opportunities, 2018", Indian biometrics market revenue is anticipated to reach up to USD 2 Billion (Rs. 10,000 Crore) by 2018. The main drivers for the growth of Indian biometrics market are lack of data protection, improper border security, terrorist threat, population growth and technological advancements. The challenges being faced by Indian biometrics market are the rough hands and cataract problems, lack of innovation, implementation of biometric at grass root level and high cost of production. The industries are adopting the biometric systems because of its benefits such as increased productivity, revenue, cash flow which ultimately help in customer retention.
"The growth of biometrics market can be attributed to the increasing demand in security sector along with increased application in government projects. India's upcoming biometric projects such as e-passports, biometric pan cards, driving license, smart cards for BPL (Below Poverty Line) families (includes conversion of the old ration card to biometric ration cards) and much more. These biometric systems include technologies such as fingerprint scanners, iris scanners, facial and hand recognition with fingerprint scanners accounting for the highest market share in 2012," said Mr. Karan Chechi, Research Director with TechSci Research.
The government of India has combined a database of more than 200 Million Indian residents digital fingerprints, iris scans, facial photographs, names, addresses and birth dates. However, this huge compilation of private information is minuscule compared to the volume of data the Government ultimately intends to gather.
The Unique Identity Authority of India (UIDAI) has a goal of capturing and storing personal and biometric information for each and every resident of India's 1.2 billion population. It is estimated that once the entire system is implemented it will require data storage capacity 10 times the size of Facebook. The enrollment in the current program is not mandatory but the government's efforts to link everything with UID such as banking transactions, licenses, taxes, etc. would compel every citizen in the country to get enrolled at the earliest.
"India Biometrics Market Forecast & Opportunities, 2018" has evaluated the future growth potential of biometrics market in India and provides statistics and information on market structure, market trends, market size, etc. The report includes biometrics market projections and demand forecasting. The report is intended to provide cutting-edge market intelligence and help decision makers to take sound investment evaluation. Besides, the report also identifies and analyzes the emerging trends along with essential drivers, challenges and opportunities available in biometrics market in India.