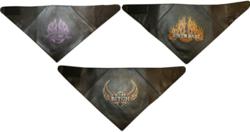 Women custom leather face masks.
(PRWEB) April 17, 2013
This is the second new product that eBikerLeather.com has announced this month. Either they stroke a path of gold, or have an idea to make their competition disappear from the market. There are a lot of types of motorcycle leather face masks but eBikerLeather is the first company to introduce leather face masks with rhinestones. The rhinestones are made and designed in the United States Of America.
As on option eBikerLeather.com has added 3 types of designs to pick from, and is promising more designs by the end of the month. For now the client can choose between Lady Rider, Biker Bitch, and Biker Babe. Each one of the designs is made in U.S.A. The face mask used by eBikerLeather to print the designs is made with 100% Genuine Leather.
eBikerLeather has stated that the next 10 people that place their order will receive $10 off coupon with their next purchase. The starting price of custom leather mask is $19.99 for any of the 3 designs provided by eBikerLeather.