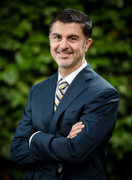 San Francisco, CA (PRWEB) April 18, 2013
Dr. Sam P. Most has been welcomed as the newest member of the Haute MD Network. An exclusive invitation-only group, the doctors representing the network are at the pinnacles of their industries. Dr. Most was handpicked for his exceptional talents in Facial Plastic and Reconstructive Surgery and Rhinoplasty (nose job) techniques. Haute Living Magazine will feature Dr. Most as the exclusive Haute MD specialist for the Face and Nose categories, in the San Francisco Bay Area market.
About Haute MD Network
The exclusive Haute Living Haute MD Network is made up of the most prestigious doctors across the US. These doctors are revered and invited for their skill in one of nine specialties: Breast, Face, Smile, Nose, Skin, Body, Orthopedic, Hair Replacement, and Vision. The Haute MD blog is frequently updated with groundbreaking news, trends and events in the industry, and is the ultimate source for finding the best doctor in your area. All this and more may be accessed by visiting http://www.hautemd.com.
About Dr. Sam P. Most
An internationally known expert in facial aesthetic surgery and Chief of Facial Plastic Surgery at Stanford, Sam P. Most, M.D., offers something unique: personalized, private care in a world-class institution. He is an award-winning facial plastic surgeon with an expertise in facelift, eyelid surgery, and rhinoplasty. As a photographer with an interest in graphic design, his artist's eye helps him produce beautiful, natural-looking results. His approach is to individualize care for each patient. For example, he says, "Each person is evaluated based on their own desires—as well as their facial features, ethnicity, and gender—to achieve a natural, harmonious result." Dr. Most is a leader in the field, having been elected to the Board of the AAFPRS and selected to chair several meetings on treatment of the aging face. He has been elected by his peers for inclusion in Best Doctors in America for 2007–2013.
To Learn More: Visit Dr. Sam P. Most's Haute MD Member Profile