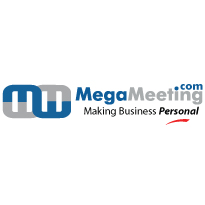 At MegaMeeting.com we take pride in how easy it is to use our product and how easy it is to get attendees in and out of meetings
Los Angeles, CA (PRWEB) April 18, 2013
Internet MegaMeeting, LLC, more commonly known as MegaMeeting.com, announced today the release of an update to their highly robust web-based video conferencing platform which includes integration with Flash Media Gateway, allowing meeting hosts and admins to merge teleconferencing and VoIP calls.
In previous versions of MegaMeeting.com's web-based video conferencing software, meeting attendees were able to participate in conversations by either calling into a teleconferencing number or through VoIP using a headset connected to their computer, however if someone was using the VoIP connection they were unable to hear those attendees that had called in using the Teleconferencing Bridge.
MegaMeeting.com's new Flash Media Gateway integration solves this issue by merging the audio from users inside the meeting room who are using VoIP with users who are using the Teleconferencing Bridge. MegaMeeting felt this integration was essential in order to continue to provide their clients with a seamless way to conduct company meetings, trainings and webinars.
Another benefit to the Flash Media Gateway integration is recorded meetings will now include audio from both VoIP attendees and Teleconferencing Bridge attendees. "At MegaMeeting.com we take pride in how easy it is to use our product and how easy it is to get attendees in and out of meetings. The Flash Media Gateway integration allows us to improve our product by providing participants with multiple options to send and receive clear audio communication", stated Tawny Labrum, Marketing Director at MegaMeeting.com
About MegaMeeting.com (http://www.MegaMeeting.com)
Founded in 2003, MegaMeeting.com is a leading provider of 100% browser-based web & video conferencing solutions complete with real time audio and video capabilities. MegaMeeting.com is a completely browser-based solution that works on all major operating systems – Windows, Mac & Linux as well as iPhones, iPads and Android enabled tablets or mobile devices. MegaMeeting.com provides universal access without the need to download, install or configure software. Their web conferencing products and services include powerful collaboration tools that accommodate robust video & web conferences, including advanced features such as desktop/application sharing, i.e. Word and Excel documents and PowerPoint presentations without the need to upload any files. MegaMeeting.com is ideal for multi-location web based meetings, virtual classrooms, employee trainings, product demonstrations, company orientation, customer support, product launches and much more.
For more information please visit http://www.megameeting.com or call (818) 783-4311.