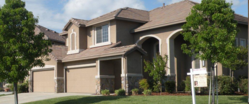 Sacramento, CA (PRWEB) April 18, 2013
Aaron Amuchastegui, president of Aaron Amuchastegui Construction and CEO of AMA Construct Inc., a leading real estate consulting group specializing in distressed assets, announced today its revolutionary customer service initiative for purchasers of flipped properties. Aaron Amuchastegui Construction will begin offering premium warranties for resold homes, an uncommon practice among many house flipping companies.
Aaron Amuchastegui has taken the new home sales model and adapted it for resale properties. His company now provides potential buyers with a full time, in house customer service team. Aaron's progressive system creates an experience for the homebuyer that is nearly identical to that of purchasing a new house.
The addition of the customer service team streamlines the buying process, getting buyers into their homes as quickly as possible. To better serve their customers, Aaron Amuchastegui Construction created proprietary software for quality control. The software allows the company's partners and employees to manage repair lists, before and after pictures, and schedules. The software's mobile component includes apps available on Apple and Android devices.
Although the Aaron Amuchastegui Construction customer service team aids each buyer through the entire purchasing process, this company's unparalleled customer care warranty goes beyond the sale of the home. Aaron Amuchastegui Construction promises to offer repair services to previous customers after the home is sold.
"From big projects to minor fixes, we've taken care of them all. I've received calls from people we sold houses to two years ago that call and say a light switch isn't working. Since we have a customer service crew traveling throughout the county every day, we will stop by and inspect it for free. If it is something that can be fixed right away by our team onsite, we just take care of it as a courtesy. A lot of times these things get fixed by our team, free of charge within 24 hours of the first call. If it is something that was a new occurrence, and well outside a warranty, then we will assist the buyers to make sure whatever is needed can be fixed in the most complete and cost effective manner for them," says Aaron Amuchastegui.
Aaron Amuchastegui Construction is the only company of its kind offering such an inclusive customer care warranty. The company stands out among other house flippers in the region for its unique customer service model.
"Since we only own these houses for a month or two before we sell them, there are bound to be things that get overlooked that no inspector could have foreseen without someone living in the house. If the buyer contacts us five or six months down the line, and they discover a major issue that we agree should have been addressed before selling them the home, we will take care of it, even though we have no legal liability to do so," says Aaron Amcuhastegui.
As a forerunner in his field, Aaron Amuchastegui began renovating and selling foreclosed homes in 2009, when house flippers occupied a miniscule sector of the real estate market. Just four years later Aaron Amuchastegui has purchased, renovated and sold nearly 400 homes. Aaron Amuchastegui adopted common new home sales methods and applied them to the resale market. Further establishing his place as a market leader, Aaron Amuchastegui's innovative formula for quality customer service pulls on his background in new home building to offer customers a more favorable resale experience.
For more information regarding this new venture please visit:
AMA Construct Inc.: http://www.ama-assets.com
Aaron Amuchastegui Construction: http://www.norcalhomerestoration.com
Capri Property Real Estate: http://www.capripropertyrealestate.com