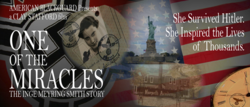 "Miraculous" - The Tennessean
Franklin, Tennessee (PRWEB) April 23, 2013
STAFFORD'S HOLOCAUST / CIVIL RIGHTS "MIRACLES" DOCUMENTARY HARROWING
When filmmaker Clay Stafford set out to make a simple, but powerful film about one woman's efforts to change the world one child at a time, he had no idea the emotional reception it would receive. The mesmerizing true-life story premiered April 18 at the sold-out Franklin Theater in the town where the film takes place. WAKM said it was "a thrilling and inspirational story." Williamson Herald called it "harrowing." The Tennessean declared it "miraculous." It was an official selection at the Utopian Film Festival in Washington, D.C. U.S. Congresswoman Marsha Blackburn says this story is "especially worthy of remembering. A testament to the great work of the filmmakers." A roller-coaster ride of emotions, showing after showing has been added as they sell out. Independent film theaters are hearing about it and asking to screen it.
Complete with a beautiful symphonic score also produced by Stafford, "One of the Miracles" is the deeply moving personal story of Inge Meyring Smith, an historic Holocaust survivor and American Civil Rights early-education pioneer who became the light of learning for thousands of children in the American South. She survived yellow benches, the Nazis who killed her family, American prejudice, the Ku Klux Klan, and the march for racial equality.
During the German Holocaust, Inge's Jewish family barely escaped with their lives. Having only $15 in the family's pocket when they arrived in the U.S., Inge's family swore to survive. She moved to Tennessee. She had barely lived through yellow benches in Germany and what she saw in the South was segregated water fountains. "It was ignorance more than prejudice," she said, but she had seen from the extermination of her own family where prejudice and ignorance unchecked could lead. Hand-picked by the Kennedy/Johnson administration to help develop a new national preschool education program called Head Start, Smith – a woman and a Jew – went South to Mississippi at peril again to her own life. Through her international efforts via independent school associations, out of her passion to reach children in unreachable parts of the U.S. as well as at her own backdoor, untold thousands of children have been inspired to learn through her efforts and those she has influenced over the past 70 years. She's been called an American inspiration. She points to her children and great-grandchildren living safely and prospering and says, "That's the American dream."
What's going to happen next with the film? Stafford doesn't know. "We've been humbled at the response. "To us, it was clearly a life-changing story that needed to be told and recorded, but we never could have anticipated the response. As a result, we've had interest from several television distributors, other theaters, but no final decision has yet been made." Like Inge, this film may have a life of its own."
A special press section has been set up at http://www.oneofthemiracles.com/content/press.htm with more info and photo downloads. The movie trailer is available at http://www.oneofthemiracles.com/content/trailer.htm. Info about the filmmaker and production company can be found at http://www.ClayStafford.com and http://www.AmericanBlackguard.com.
The full 96-minute film is available online for private advance review. For more info or to set up an interview with Inge Smith or filmmaker Clay Stafford, contact Mike Bunch at 615-599-4032 or media(at)americanblackguard(dot)com.
American Blackguard Media Relations
P.O. Box 680686
Franklin, TN 37068-0686
615-599-4032
http://www.AmericanBlackguard.com
media(at)americanblackguard(dot)com
Contact: Mike Bunch