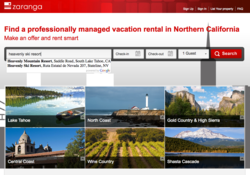 To add this many fabulous homes in a place that offers such incredible year-round activities is tremendous
(PRWEB) April 18, 2013
Zaranga, a top website for vacation home rentals, has expanded its reach into Big Bear Lake, California. This expansion added over 300 properties to Zaranga, which is the only travel website focused solely on professionally managed properties. The move to the Big Bear Lake area builds on the website's movement to popular California travel destinations including the Lake Tahoe, Mendocino, Mount Shasta, and Mammoth Lakes regions.
"The availability of Big Bear vacation rentals on Zaranga is a great step for us," said Brett Watson, Marketing Manager. "To add these many fabulous homes in a place that offers such incredible year-round activities is tremendous for our travelers from throughout California and the rest of the country."
About Zaranga
Zaranga is a top online marketplace featuring only professionally managed vacation rentals. By allowing guests to make offers, travelers can save in weekend getaways and vacation destinations throughout California.