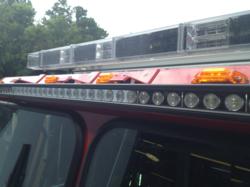 LifeTime Warranty, Split Optics, and Embedded Marker Lights are leading edge features. Also the light that reaches a scene from our brow light is two to four times brighter than our competitors. It's that simple - Sam Massa, Founder HiViz LED Lighting
Lillington, NC (PRWEB) April 19, 2013
HiViz LEDs Lighting will be unveiling its next generation of LED Brow Light , Scene Lights, and Light Tower at the leading fire industry trade show, FDIC to be held in Indianapolis, IN April 22 thru 27. Ultra bright, rugged, and offering the industry's only LifeTime Warranty, HiViz HiViz LED Lighting debuted its FireTech offerings with the introduction of a low-profile, LED Brow Light at the South Atlantic Fire Rescue Expo in Raleigh, 2012. Trey Daughtridge of Fire Connections, an E-One Fire Apparatus Distributor, characterized the FireTech Brow Light this way, "It's the most cutting edge technology on any truck at the show."
HiViz LED Lighting now looks to raise the bar even further at the FDIC Show in April 2013 with its introduction of the FireTech split optics brow light which includes other leading edge features such as embedded marker lights. The FireTech family of low-profile, ultra-bright brow lights and scene light options for emergency apparatus includes 46", 65", and 72" wide brow lights made with corrosion-resistant extruded aluminum that are two to four times brighter than a single FRC Spectra or Whelen Pioneer LED light.
All of the standard features the industry would expect from an LED based technology are provided including low amperage per circuit via 12v DC, instant on / instant off capability, no requirement for ballasts, and no need for a generator or warm up time. What is not expected is that the collimator technologies and split options used by HiViz LED Lighting allow for light to be shown both near the cab and projected as far as standard hose lengths without having to adjust the light. Also, HiViz offers an unprecedented LifeTime Warranty for its light.
"LifeTime Warranty, Split Optics, and Embedded Marker Lights are leading edge features," explains Sam Massa, Founder of HiViz LED Lighting and creator of the FireTech Brand of lighting solutions. Sam continues, "The light that reaches a scene from our brow light is two to four times brighter than our competitors. It's that simple."
Also being unveiled by HiViz LED Lighting is a WilBurt tower based Light Tower solution featuring the FireTech high output LED scene lights that are brighter than any of the competitors' offerings and carry the same LifeTime Warranty. In addition HiViz LED Lighting will showcase the SuperCharge Rebuild Program™, which takes the handheld LiteBox® flashlight already owned by fire departments and upgrades it into a handheld scene light that is 35 times brighter than the original light. All of these offerings carry the HiViz LED Lighting FireTech LifeTime Warranty on the light heads.
HiViz LED Lighting and the FireTech lighting solutions will be at Booth 13052 located just past registration before entering the main floor at the Indiana Convention Center.
LifeTime Warranty: All FireTech lighting solutions come with the only emergency/ fire/rescue industry LifeTime Warranty for a lighting solution. This is a straight forward replacement warranty for the life time that you own the light. If the light stops working virtually for any reason other than crushing it, call HiViz LEDs and we'll get it replaced. They truly mean the Life Time that a customer owns the light
.
HiViz LEDs is located in Lillington, NC and is owned and operated by Firefighter and EMT, Sam Massa and his team of Lighting professionals. For more information about how the FireTech Brow, Scene Light, Work Light , Compartment Light , or SuperCharged Handheld Scene Light can be implemented in your fire department and on your fleet, contact HiViz LED lighting by emailing sales(at)hivizleds(dot)com or calling the office at 703-662-3458.
LiteBox® is a registered name of Steamlight, Inc. Click here to see interview with Trey Daughtridge of FCI.