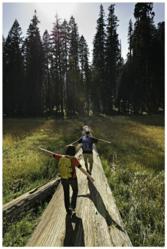 SEQUOIA NATIONAL PARK, Calif., (PRWEB) April 18, 2013
Blooming wildflowers, roaring waterfalls, stirring wildlife – all indicators that spring has sprung in Sequoia and summer is right around the corner. It's the perfect time to experience nature's finest work in Sequoia National Park. To help guests savor the sunny seasons, Wuksachi Lodge, nestled in the heart of the park, is offering spring rates starting from $135 and value-added packages that highlight all the area has to offer.
Though famous for its giant sequoia trees, Sequoia National Park provides guests with an endless array of scenery at every turn. With more than 800 miles of trails between Sequoia and Kings Canyon National Parks, Wuksachi Lodge's Trail Blazer Package is ideal for hiking to Sequoia's spectacular vistas and popular attractions such as Moro Rock, Tokopah Falls and General Sherman. Starting at $189 per night this spring, the package provides a night's stay plus a handful of essentials to ensure a fun-filled experience including a Sequoia logo backpack, two Sequoia logo water bottles, box lunches for two, trail mix and a local trail map. Or why not take in some of the sights on horseback? Starting from $315 per night this summer, Wuksachi's popular Horseback Package includes nightly accommodations plus box lunches and a one-hour guided Sequoia horseback-riding experience for two adults.
It may sound difficult, but with the new Majestic Mountain Loop, guests can visit three national parks in three days through a scenic network of highways, back roads and loops. Here's how it works: by taking the Majestic Mountain Loop, travelers can explore Sequoia, Kings Canyon and Yosemite National Parks on an ultra-scenic three-day road trip. With glaciers, granite monoliths, steep canyons, thundering waterfalls, cool caves and magnificent Giant Sequoia trees, the hardest part of the experience is keeping both eyes on the road! Wuksachi Lodge serves as an official stop, where "loopers" can pull over and recharge with the Bed & Breakfast Package. Starting at just $139 per night, it comes with big trees, panoramic views and breakfast at The Peaks Restaurant. Visit the official Majestic Mountain Loop website at majesticmountainloop.com for suggested itineraries and points of interest.
At a 7,000-foot elevation with virtually no light pollution, few locations offer better night sky viewing than Sequoia National Park. In fact, USA Today named Sequoia one of 10 national parks that boast some of the best nighttime skies. Starting at $255 per night this summer, Wuksachi Lodge's Night Sky Package provides guests with everything needed to experience an amazing evening of Sierra stargazing including lodging, an astronomy wheel to help identify various constellations and celestial bodies, a flashlight, a throw blanket to stay warm or sit on, and an eco-friendly tote bag to carry it all.
One of the highlights of any summer visit to Sequoia National Park is the Wolverton Living History BBQ Dinner. Beginning mid-June, hungry guests can enjoy an all-you-can-eat BBQ feast of pork ribs, chicken, burgers, hot dogs and much more. It all goes down at Wolverton Meadow along with performances by Living History storytellers who take everybody back to the pioneering days of the Old West. Guests who book the Wolverton BBQ Dinner Package, starting at $255 per night this summer, receive overnight accommodations and two tickets to the dinner experience. Additional tickets may be purchased upon arrival.
New this year, Wuksachi's Sequoia Explorer Package provides guests with a full taste of summer in Sequoia. Starting at $285 per night this summer, this three-night package includes lodging, a half-day sightseeing tour, trail map with box lunches for two adults, and two adult tickets to the Wolverton Living History BBQ Dinner.
And now visiting Sequoia has never been easier. Public transportation is offered from Visalia to Sequoia National Park from Memorial Day to Labor Day. This enables guests to leave their car behind and access locations throughout the Giant Forest including the Giant Forest Museum, General Sherman tree, Moro Rock, Lodgepole Visitor Center and Campground, Crescent Meadow, and Wuksachi Lodge. The cost is only $15 roundtrip and includes the entry fee to the park. Additionally, guests may use the shuttle within the park for free. To reserve space, call toll-free (877) BUS-HIKE (877-287-4453) or visit sequoiashuttle.com.
Some packages are dependent on weather conditions or may have certain restrictions. Wuksachi Lodge's newsletter has more details and illustrated information on some of the packages featured above. To learn more visit, VisitSequoia.com/Newsletter. For additional information on rates and availability or to book accommodations, go to VisitSequoia.com/Packages or call toll-free (866) 449-4902.
About the Wuksachi Lodge
Located in the heart of Sequoia National Park on the western slope of the Central Sierra, the 102-room Wuksachi Lodge features a panoramic mountain setting, full-service restaurant, cocktail lounge, retail shop, and 1,320 square feet of dedicated meeting space. Furnishings reflect an upscale, natural decor highlighting native granite rock, oak, cedar, and hickory woods as well as modern guest amenities such as Internet access. The Wuksachi Lodge is operated by Delaware North Companies Parks & Resorts, one of the nation's leading hospitality management companies, under contract with the National Park Service. To learn more, visit http://www.visitsequoia.com.
About Delaware North Companies Parks & Resorts
Delaware North Companies Parks & Resorts is an industry leader providing Stewardship and Hospitality in Special PlacesSM with hotel, retail, food service, recreation and transportation operations at historic and scenic properties in North America and Australia. The company operates Kennedy Space Center Visitor Complex and in Yellowstone, Grand Canyon, Sequoia and Yosemite national parks, including The Ahwahnee and other Yosemite lodges; Tenaya Lodge at Yosemite & the Cottages at Tenaya Lodge; Harrison Hot Springs Resort & Spa in British Columbia; Niagara Falls State Park; The Lodge at Geneva-on-the-Lake in Ohio; Gideon Putnam Resort in Saratoga; Holiday Inn West Yellowstone, Gray Wolf Inn & Suites and Yellowstone Park Hotel. The company also owns and operates five luxury resorts in Australia: Lizard Island Resort, Heron Island Resort, Wilson Island Resort, Kings Canyon Resort and El Questro Homestead and Wilderness Park. To learn more about Delaware North Companies' hospitality management expertise, visit http://www.experiencednc.com.
###