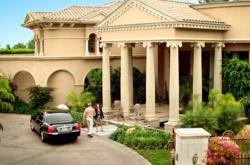 "Confidentiality is a key component of our program because it allows our clients to trust the process they're involved in and open up in ways ideally suited for successful and effective recovery." - Pax Prentiss
Malibu, CA (PRWEB) April 25, 2013
Confidentiality and substance dependency rehabilitation remain inseparable from each other. A newly announced rule from the Department of Health and Human Services changes the definition of Protected Health Information in a way that applies specifically to residential rehab facilities who deal with high-profile clientele. The National Law Review published key excerpts of the new regulations, which were made public on March 28th 2013.
The revised rule refines the standards, under both the HIPAA and HITECH acts, for when breach notification is required. Essentially, a breach notification is required in every single situation that sensitive information is revealed, unless the facility handling the information can prove that there was a low probability that the Personal Health Information was compromised.
"When it comes to privacy, Passages adheres to the highest law of the land. We have a compliance program and ongoing compliance training as a part of our Joint Commission accreditation. Our clients sign confidentiality agreements as does our entire staff. We take privacy seriously." said Passages Addiction Treatment Center's Director of Quality Improvement and Utilization Review Officer Linda Shulman.
Especially in addiction rehab centers, where the societal stigma associated with substance dependency and recovery weigh heaviest, are the key tenets of confidentiality most important. Confidentiality and Protected Health Information security required by federal guidelines are often looser than those maintained at facilities like Passages Malibu. Federal guidelines occasionally do not go far enough to make sure that if a client desires complete confidentiality, they are able to recover under the full protection of it.
"We've had the honor of treating some of the most unique and ambitious people in the world," said Passages Addiction Treatment Centers CEO Pax Prentiss, "But truly, every person who comes through our doors is exceptional. We take pride in understanding each one of our clients, and crafting a customized treatment program that best addresses their individual situation. Confidentiality is a key component of our program because it allows our clients to trust the process they're involved in and open up in ways ideally suited for successful and effective recovery."
The Passages Malibu Addiction Treatment Center was recently named the "Number 1 Treatment Center in the World" by Healthcare Global magazine and "One of The Most Luxurious Places to Dry Out by Forbes magazine.
Both Passages Malibu and Passages Ventura rehab centers have earned coveted accreditation by The Joint Commission (JCAHO), which has only been given to 6% of the nation's behavioral health treatment programs. Both Passages Malibu and Passages Ventura accept certain insurance plans.
At Passages Malibu - Addiction Ends Here™
About Passages Malibu & Passages Ventura:
Founded by Chris Prentiss and Pax Prentiss, Passages Malibu opened in 2001 with its second location, Passages Ventura, opening in 2009. The two drug and alcohol abuse treatment centers offer an alternative to the 12-step/AA model of addiction treatment by using a holistic approach and a program that focuses on the underlying issues of substance dependency, rather than suggesting that addiction is an incurable disease.
Both Passages Malibu and Passages Ventura accept insurance and have earned the accreditation by The Joint Commission (JCAHO), which has only been given to 6% of the nation's behavioral health treatment programs.
The co-founders are also authors of the acclaimed series of treatment books that include their groundbreaking flagship book, The Alcoholism & Addiction Cure. For general inquiries about treatment, contact: 866-233-1753
For media inquiries, contact:
press(at)passagesmalibu(dot)com