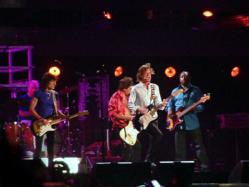 New York, NY (PRWEB) April 18, 2013
The Rolling Stones will be headlining at the MGM Grand in Las Vegas on Saturday, May 11th. For all the acts in Las Vegas, and for all the places a concert tour would have stops, The Rolling Stones in Las Vegas takes the cake. This is a concert which will stop the city. The band is into rolling into town for a concert performance which is expected to be a once in every fifty year event. In essence the band will be celebrating their fifty years of being a group. This is the foremost band in the last fifty years and it is fitting that they stop at Las Vegas as well as Montreal, Canada for the countless visitors who go there and let the good times roll. Although initially, it was not part of their itinerary, they have booked Centre Bell on June 9th for their show in Montreal.
The "50 and Counting" tour is a concert which is not built on the number of seats or expected earnings. At the end of the day, this is one show where all the distilled knowledge of performing, and stage presence will pour out and reveal why The Rolling Stones have been the most popular show for the last fifty years. They will be singing their hits like "Jumping Jack Flash", "Paint It Black", "Brown Sugar", "Honky Tonk woman," and a lot of other songs from twenty-four studio albums. Fans would be hard put to expect that the band would sing all their hits. Definitely, there would be some misses, but all in all, a Stones concert is more than just the song, it is the experience.
As part of the fifty year celebration, some friends are expected to join them onstage. They confirmed that former band member Mick Taylor will be joining them onstage for some stops during the tour. During their fiftieth anniversary shows at New Jersey, The Black Keys, Bruce Springsteen, and Lady Gaga joined them onstage. With The Rolling Stones, they may not be able to do some things they were famously able to do, but they will deliver and surprise fans.
As one of the most successful bands in the world, The Rolling Stones have had more 200 million album copies sold. Besides the studio albums, they have also released eleven live concert albums, twenty-three videos and countless compilation albums. Admittedly, there was a point in time when people were doubting if these stars would even have a career this long. It has been a tumultuous fifty years, but now fans just want them to see them perform live.
If there is a place where they can perform to their liking, Las Vegas would be the one. A city built around the concept of performance and big names, Las Vegas is not a stranger to big established stars like the Stones. It can even be said that it welcomes The Stones and might even want nothing else than for them to stay longer.
The Rolling Stones at the MGM Grand Garden Arena in Las Vegas on May 11 and Centre Bell in Montreal, Canada on June 9th will be epic shows.
About CheapConcertTickets.me:
Cheap Concert Tickets delivers tickets to sold out concerts and events worldwide when no one else can, and they do so at discounted prices. As a member of TicketNetworkDirect, they can guarantee the delivery of tickets on time for sporting events, NASCAR, NBA, NFL, and NHL. This popular ticket exchange also has cheap Rolling Stones tickets, Lil Wayne Tickets and Joe Bonamassa tickets. With CheapConcertTickets.me customer service is a priority, for more information email support(at)cheapconcerttickets(dot)me.