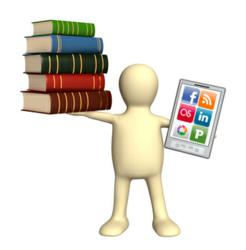 Libraries have always been among our most vibrant community organizations -- and social media enables them to bring people together on a whole new level.
Houston, TX (PRWEB) April 23, 2013
On Thursday, April 25, Rachel Parker, President and Chief Strategist of Houston-based Resonance Content Marketing, will present "Maximizing Social Media for Marketing" at the Texas Library Association Annual Conference in Fort Worth, Texas.
"As a former librarian myself, I'm thrilled to have this opportunity," Parker says. "Our libraries are among our most vibrant community organizations, and social networks offer them unprecedented opportunities for reaching out to a whole new audience."
Parker's presentation will include a brief introduction to blogs, Facebook, Twitter and YouTube, plus ideas on how libraries can best leverage these assets and specific examples of Texas libraries that are using them successfully.
"So many Texas libraries are out there doing amazing things in social media," Parker notes. "They're using these tools beautifully to engage their communities, to promote special events and even to answer questions in real time. I want to help attendees understand how powerful social media can be in helping them market their services, and to show them how their peers are using these networks to achieve impressive results."
About Resonance
Founded in 2010, Houston-based Resonance Content Marketing helps companies attract and retain business through engaging content delivered through social media, e-newsletters, blogs, and other venues. Resonance enhances its clients' marketing strategies by developing comprehensive content marketing plans, writing and publishing content on their behalf, and measuring the results to ensure consistent progress.